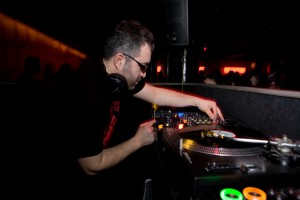 Still Music is based in Chicago, IL, and is the brainchild of Jerome Derradji. Now in its seventh year, Still Music has been instrumental in the worldwide proliferation of some of America's freshest underground dance music. From raw disco to beautiful, refined techno, and stopping at every tempo and mood between and beyond, Still Music and its sublabels Past Due and Love For Music have found room to include artists both established and new, releasing what can only be described as GOOD music.
This is the natural way of working for Mr. Derradji, who moved to the US in 2000 and cut his teeth working with various record shops and electronic music distributors in Chicago. He decided to launch Still Music in 2004, with the inaugural release featuring Amp Fiddler from Detroit remixing Patchworks from France. With this template set, Still Music went on to release music from veteran dance producers such as Rick Wilhite and Gerald Mitchell, while also stretching out into other genres on Randolph's "Lonely Eden" album and Seun Kuti's political afrobeat on "Think Africa". Still also dropped the In The Dark compilation, showcasing the then-emerging Detroit house sound and featuring the production debut of Keith Worthy, which was touted as Groove Magazine's #1 release the month it came out. These credentials have earned Still Music "Label of the Month" status in XLR8R magazine and on leading dance music site Resident Advisor.
Jerome Derradji - Beats In Space


Not satisfied with Still Music's impressive breadth and depth, Jerome also launched two highly successful sublabels to compliment the main label. Past Due records is the place for long-forgotten independent disco and funk gems to be unearthed, reissued, and remixed by modern producers, bringing artists like DIT and Greyship Daviz into the spotlight they (wrongfully!) never achieved the first time around. Love For Music (also known as Stilove4music) is the label dedicated to more underground sounds, from disco edits to lo-fi house and techno madness. This is the label responsible for launching Trus'me and Bruce Ivery amongst others, in addition to being home to Chicago's disco don, Rahaan.
These different directions are all part of the overall musical philosophy of Mr. Derradji, who is also a diverse disc jockey. Crafting sets from the past 40+ years of music, with a special interest in finding and playing music that others can or will not, Jerome has become known as a special selector. He has been at the helm of CD mix compilations such as The American Boogie Down for BBE Records and The Sound of Still Music for Slip'n'Slide which features only cuts from him own label. His talents also include production, with his remix of "System of Survival" on Love For Music being a favorite of DJ Harvey even years after its initial release. In addition, Jerome has thrown an uncountable number of parties in the US, concentrating on the dance music capitals of Chicago, Detroit, and New York City, including a two year residency at the famous club APT. Jerome has also toured Europe to spread the Still Music sound, playing with too many heavyweight DJs to name.