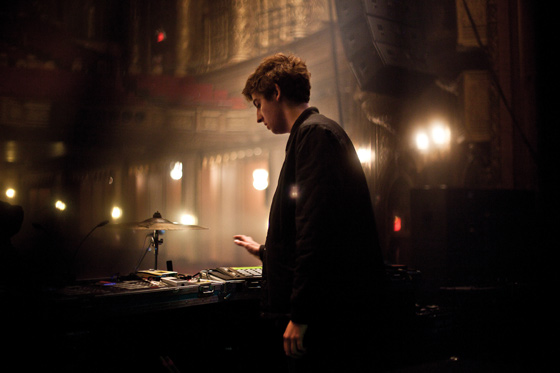 I'm usually not the biggest fan of producers and artists making DJ sets. As someone who doesn't produce but spends most of his waking hours researching music I'm just not that impressed with sets that feature tracks that came out in the last 2 weeks. Not very impressive.
I do however have nothing but love for artists who show that they are as much fan of other people's music than their own. People like Floating Points and Jamie XX are definitely on that tip. One look at the tracklisting and you can tell they know their shit!
This is Jamie XX's Essential mix recorded on BBC Radio 1 and it's all you need to start your week off right! Featuring some of my favorite tracks of the moment from Ifan Dafydd, Floating Points, Aardvarck and so much more.
Jamie XX Essential Mix - BBC Radio 1


Tracklisting
Orbital – Belfast
Phanes – Lucky Woman
Ifan Dafydd – No Good
Harvey Mandel – Christo Redentor
Koreless – Lost in Tokyo
Floating Points – Sais
Wiley – Colder (Instrumental)
Fantastic Mr. Fox – Untitled
Pärson Sound – Untitled
DJ Deeon – Fine Hoes
Luke Vibert – Analord
New Look – Janet
John Tejada – Unstable Condition
Univac – Untitled (Track 1)
Aardvarck – Nosestep (Original Mix)
Jean Jacques Smoothie – 2 People
Instra:mental – Pyramid
Grimm Limbo – Fortune Favours the Brave
R A G – Rage (Spaventi &Aroy Raw Mix)
Ronnie Dyson – All Over Your Face
Jamie xx – Far Nearer (Bootleg)
Axel Boman – Purple Drank
Loosse – About You (feat. Yolanda)
Anette Party – Moreno (feat. Anita Coke)
Gino Soccio – Dancer
Mr Beatnick – Synthetes
Funke, Sacha vs Nina Kraviz – Moses (Stimming Remix)
Jamie xx &Gil Scott Heron – I'll Take Care of U (Special DJ Version)
Genius of Time – Houston We Have a Problem
Austin Eterno/The xx – I Remember Shelter
James Blake – Libra (Edit)
Pangaea – Bear Witness
Holly Miranda – Slow Burn Treason
Peter Horrevorts – Siren
Chuck Roberts – My House (Acappella)
Virgo Four – Do You Know Who You Are?
Morning Factory – Diane's Love
Karen Pollack – You Can't Touch Me (Roc &Kato Vocal Beat Trip Mix)
War – The World Is A Ghetto (Special Disco Mix)
Marshall Jefferson – Mushrooms (Justin Martin Mix)
Radiohead – Bloom (Jamie xx Rework)#