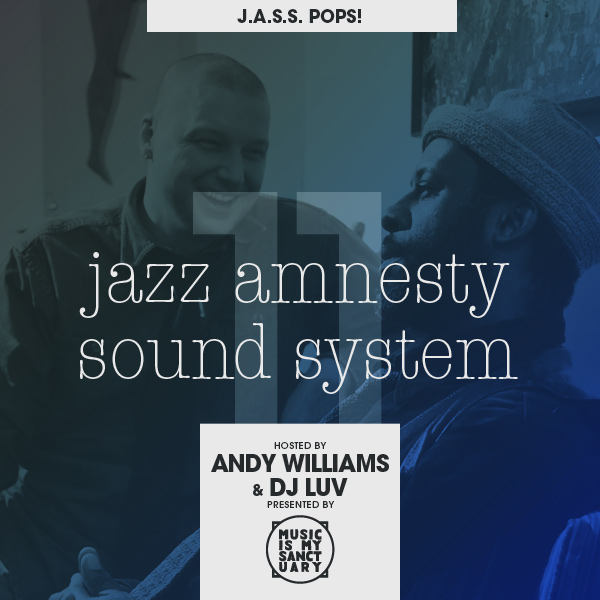 Jazz Amnesty Sound System – #11 "J.A.S.S. POPS!"
J.A.S.S. goes POP! with this mix of Jazz musicians getting creative with songs that originated in the world of Pop music.
As this is vast and varied genre there are tunes lifted from Soul music, Rock'n'Roll, Folk, Burt Bacharach, TV and movie themes, Country music, and of course a couple from Lennon & McCartney. So venture forth and hear Tony Bennett go for it with a Grover Washington Jr. hit, Cal Tjader groove out on Bobbie Gentry's debut smash, Rahsaan Roland Kirk blow the roof off of the Jackson 5, Ahmad Jamal remake "Suicide Is Painless", Joe Farrell stretch out Stevie Wonder with a CTI sound, Jaco Pastorius reinterpret "Blackbird" and many more that go POP!
TRACKLIST
Mr. Magic – Tony Bennett – Improv (1977)
Walk On By – Mel Tormé – Columbia (1966)
Because / Come Together – George Benson – A&M / CTI (1970)
Ode To Billy Joe – Cal Tjader – Skye (1968)
Psychedelic Sally – Lionel Hampton – 51 West (1979)
You Are My Sunshine – Jimmy McGriff – Solid State (1968)
Fa-Fa-Fa-Fa-Fa (Sad Song) – The Freedom Sounds ft. Wayne Henderson – Atlantic (1967)
Never Can Say Goodbye – Rahsaan Roland Kirk – Atlantic (1972)
(You Make Me Feel Like) A Natural Woman – Shirley Scott & The Soul Saxes – Atlantic (1969)
Theme From M*A*S*H – Ahmad Jamal – Motown (1980)
Too High – Joe Farrell – CTI (1973)
Blackbird – Jaco Pastorius – Warner Bros. (1981)
Both Sides Now – Dizzy Gillespie – Solid State (1970)
Last Tango In Paris – Robin Kenyatta – Atlantic (1973)
DOWNLOAD LINK
Listen & Subscribe to JAZZ AMNESTY SOUND SYSTEM on iTunes