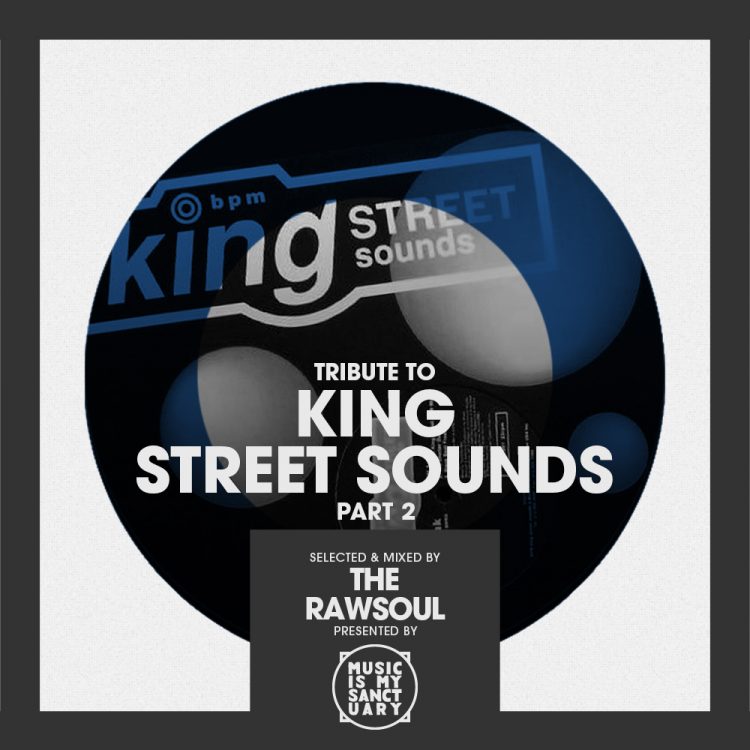 Label Tribute to KING STREET SOUNDS (Part 2) – Selected & Mixed by The Rawsoul
Back with another bunch of classic and forgotten jams from King Street Sounds and it's sublabel Nite Grooves. This time around, we're going deep in their vast catalogue, showcasing mostly tracks from the mid to the late 90's.
Heavyweight deepness and soulfulness courtesy of Kerri Chandler, Mood II Swing, Masters At Work, Mood II Swing, Lil Louis, Pal Joey, DJ Romain, Mateo & Matos, David Morales, Al Mack, Grant Nelson, Roland Clark, Eric Kupper, Colonel Abrams, Big Moses, Johnny Dangerous and much more. Stay tuned for a final part 3!
TRACKLIST
1.Rhythm Section ft Wanda Nash – Never Too Much
2.280 West ft Diamond Temple – Lift Him Up
3.Mondo Grosso – Souffles H
4.Brooklyn Friends – Philadelphia
5.Ultra Naté – Party Girl (Turn Me Loose)
6.Al Mack Presents Chanelle – I'll Keep Coming Back
7.Mood II Swing – Got To Have It
8.Urban Soul – Until We Meet Again
9.Pal Joey – I Fell…
10.SNK – Summer Is Gone, Winter Is Here
11.Carlton – Can't Be Without
12.Kerri "Kaoz" Chandler – Come Home
13.Mateo & Matos – Last Foundation
14.Mateo & Matos – Tension
15.Nick Jones Experience ft Delvin "Shake" Williams – Stand Up
16.Big Moses – Lashe's Fantasy
17.Kerri "Kaoz 6:23" Chandler – Hallelujah
18.Scott Wozniak – Blue Skies
19.Shawnee Taylor – In The Sunshine
20.Divas Of Color ft Evelyn "Champagne" King – One More Time
21.Kerri "Kaoz" Chandler – Keep Me Inside
22.Stephanie Cooke – Holding On To Your Love
23.Nick Jones Experience – As I Take You Back
24.Kenny Bobien – Back To Life
25.Groove Box – Cassion's Theme
26.Kimara Lovelace – Misery
27.Johnny Dangerous – I Can't Handle It
28.Kerri "Kaoz" Chandler – It's You
29.DJ Romain – All Day, All Night
30.Mateo & Matos – Got To Reach
31.Urban Soul – What Do I Gotta Do
32.Stephanie Cooke – Everything