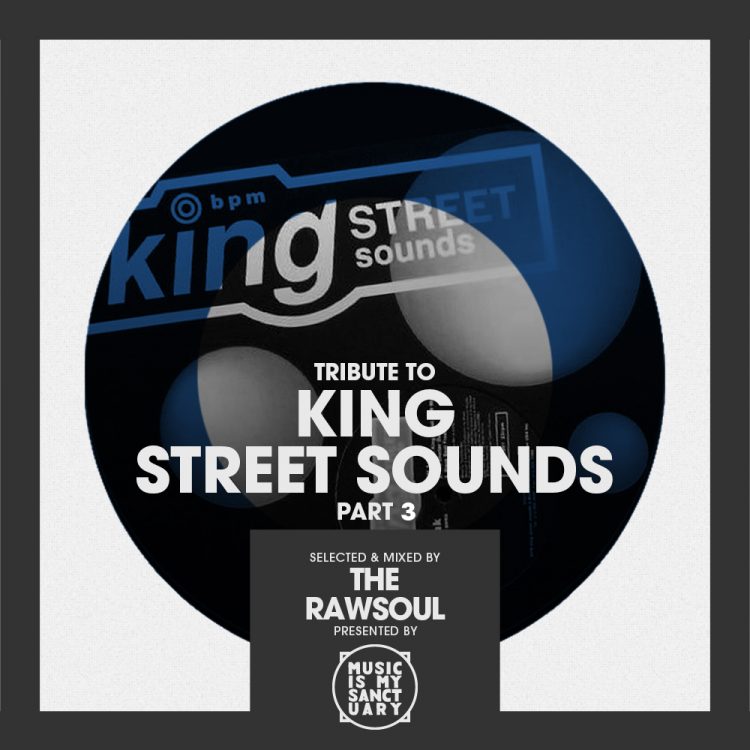 Label Tribute to KING STREET SOUNDS (Part 3) – Selected & Mixed by The Rawsoul
Back with a final bunch of classic and forgotten jams from King Street Sounds and it's sublabel Nite Grooves. We're going even deeper in their imposing catalogue, showcasing mostly tracks from the late 90's until the early 2000's.
Diverse sounds and inspirations courtesy of Kerri Chandler, Big Moses, Lil Louis, David Morales, Blaze, Joe Claussel, Burell, The Ananda Project, Peven Everett, Kenny Bobien, Stephanie Cooke, Kimara Lovelace, DJ Spinna, Ron Trent and much more!
TRACKLIST
1.Basil – City Streets
2.Kemeticjust – The Essence
3.Ananda Project ft Heather Johnson – Straight Magic
4.TPO – Hiroshi's Dub
5.B.M.E. – All Night
6.Big Moses – Party Time
7.Kerri "Kaoz 6:23" Chandler – Be There
8.Kerri Chandler ft Treasa "Diva" Fennie – Heal My Heart
9.Dennis Ferrer ft K.T. Brooks – How Do I Let Go
10.K.O.F. / A Lil Louis Painting – Stormy Black
11.Brooklyn Friends – Go Back
12.Monday Michiru – The Right Time
13.Kerri Chandler – Coro
14.Blaze – Not Far Away
15.The Ananda Project – Cascades Of Colour
16.Samble Orchestra – Inner Spirit
17.Kerri Chandler – On My Way
18.Namy ft Josh Milan – From Now On
19.Rain "A Lil Louis Painting" – Give It Up
20.Divas Of Color ft Chanelle – Love It's Over
21.Peven Everett – I Can't Believe I Loved Her
22.Big Moses ft Kenny Bobien – Never Again
23.Stephanie Cooke – I Never Told You (You Could Stay)
24.Kerri "Kaoz 6:23" Chandler – Smoke
25.Kimara Lovelace – When Can Our Love Begin
26.Ananda Project – ICU
27.Ananda Project – Destination
28.Kemeticjust – Wishin
29.Mondo Grosso – Star Suite
30.Big Moses ft Kenny Bobien – Brighter Days
31.Lost Tymeez – Every Day
32.The Society ft Ovasoul 7 – How's Life
33.MKL VS Soy Sos – Moments In My Life