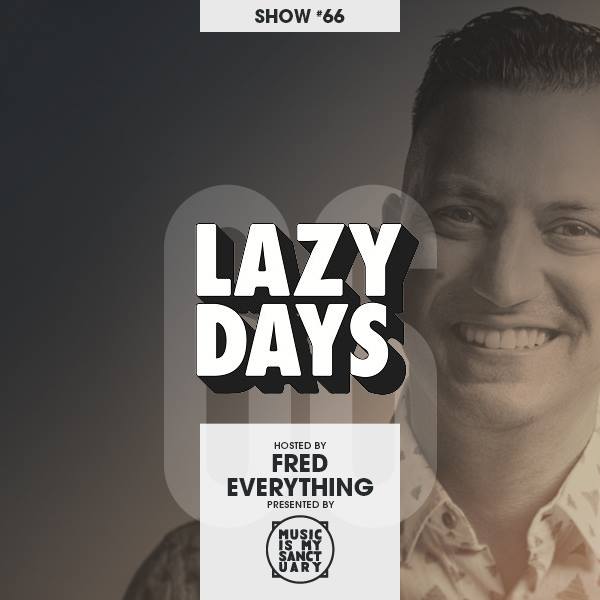 LAZY DAYS – Show #66 (Hosted by Fred Everything)
Back with a new episode of the Lazy Days Podcast, with lots of great new music again this month!
New music by Juju & Jordash On Dekmantel, new one from Kink's album on Running Back, new upcoming Aroop Roy on Lazy Days. Also features The Revenge, Art Of Tones, new I:Cube Remix of Vermont and new versions of Lord Echo "Sweetest Meditation". Hope you enjoy!
TRACKLIST
1.Juju & Jordash – Rah-Rah – Dekmantel
2.Kink – Organ – Running Back
3.TYV – Miau (Lauer Remix) – Top Tun
4.The Revenge – Long Lost Love – Hometaping Is Killing Music
5.Goshawk – Get Up 2 Get Down (Art Of Tones Dub)
6.Black Loops – Higher – Neovinyl
7.Pablo Valentino – My Son's Smile – MCDE
8.Sam IRL – You Don't Feel Enough – Jazz & Milk Recordings
9.Krewcial – 2U – Lumberjacks In Hell
10.Aroop Roy – Le Pasteur – Lazy Days
11.Vermont – Skorbut (I:Cube Remix) – Kompakt
12.Lord Echo – The Sweetest Meditation feat. Mara TK (Club Mix) – Soundly
DOWNLOAD LINK
Listen & Subscribe to LAZY DAYS on iTunes