MIMS Family – 2015 Favorite Singles & Albums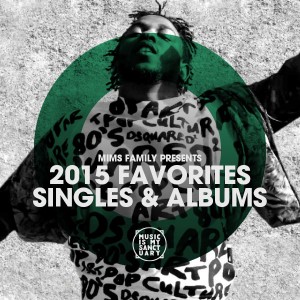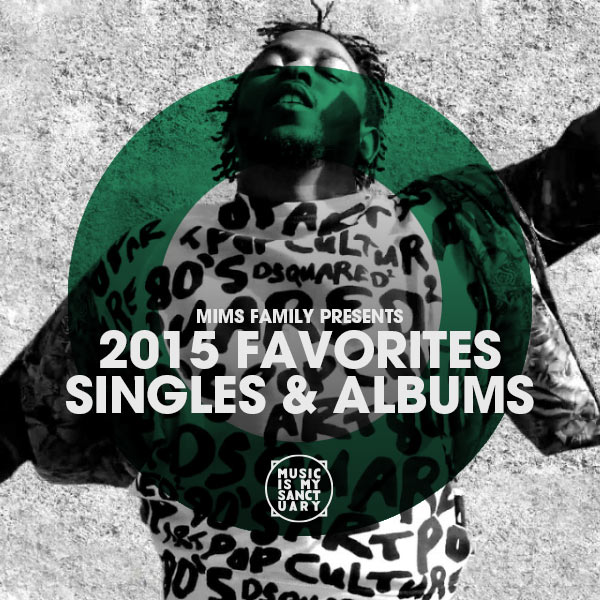 It's that time of the year again. Time to look back on all of the music that truly moved us.
It's hard for our team of music lovers / nerds to agree on anything so we though we'd each present our picks for favorite singles & albums. Hope you make some nice discoveries in here!
ALBUMS
Kamasi Washington – The Epic (Brainfeeder)
The Loop Pilots – And then the Sea (Bandcamp)
Mickey – Eye Witness (PPU)
Pomo – The Other Day (HW&W)
Eman x Vlooper – XXL (7e Ciel)
Bonus Beat : Wutang secret record
SINGLES
Kendrick Lamar – Alright
The Game – 100
Lord Echo – Land of 1000 Chances Remix (Bastard Jazz)
Onra – We Ridin'
Star Blazers (kon/recloose) – Danger Zone
ALBUMS
Kendrick Lamar – To Pimp a Butterfly
Hiatus Kaiyote – Choose Your Weapon
Kamasi Washington – The Epic
Tuxedo – Tuxedo
Dornik – Dornik
SINGLES
NxWorries – Suade
Pete Josef – Travelling Song
Henry Wu – Dubplate Special
Ivan Ave – Forks
James Chatburn – Creator
ALBUMS
Kendrick Lamar – To Pimp A Butterfly
Benjamin – Ariving
Daymé Arocena – Nueva Era
Kamasi Washington – The Epic
Hiatus Kaiyote – Choose Your Weapon
SINGLES
Kendrick Lamar -"Alright"
Ticklah -"El Dia De Mi Suerte"
Hiatus Kaiyote – "Building A Ladder"
Benjamin -"N-E-E-D L-O-V-E"
Bacao Rhythm & Steel Band – "Tender Tap"
ALBUMS
Oddisee "The Good Fight"
Thundercat "The Beyond/ Where the Giants Roam
Theo Parrish "American Intelligence"
Ibeyi "Ibeyi"
Kendrick Lamar "To Pimp a Butterfly"
THE ONE TASH
ALBUMS
Kendrick Lamar – To Pimp a Butterfly
Floating Points – Elaenia
Mocky – Key Change
Bruce Trail – Ravine Dream
BOOF – The Hydrangea's Whisper
Kamasi Washington – The Epic
SINGLES
Tame Impala – Let It Happen
Kendrick Lamar – Alright
Alister Johnson feat. Rahan Boxley – Do It Again
The Internet feat.
Kaytranada – Girl
Thundercat – Them Changes
Adesse Versions – Pride
ALBUMS
Sven Atterton – The Cove
Henry Wu – Negotiate EP
Potatohead People – Big Luxury
Illa J – Illa J
Voyage Funktastique Vol. 1
SINGLES
Dr.MaD – Stanky
Kutcorners – Need 2 Know feat. K-Maxx (Buscrates Remix)
Reva DeVito & Roane Namuh – Should Have Known (Tall Black Guy Remix)
Exmag – Tilt Mode feat Gibbz
Harvey Sutherland – Bermuda
ALBUMS
DJ Sotofett – Drippin' For A Tripp (Tripp-A-Dubb-Mix)
Night Musik – Transit
Marie Davidson – Un Autre Voyage
Patricia – Bem Inventory
Romare – Projections
SINGLES
Glyn – Caught On (In A Flash)
Jack J – Thirstin'
Dan White – Grey Bishop
LNRDCROY – Kendal In Kalusia
Rhythmic Theory – Shores of Caladan
RAHEL
SINGLES
Seven Davis Jr – Sunday Morning (Kaytronik Ruff Kut mix)
Brassfoot – After Darkness
John F.M. – Solace
Dego & The 2000Black Family – Don't Stop (Let It Go)
K-Maxx – Reachin' (Paradise)
ALBUMS
Kamasi Washington – The Epic
Rüf Dug – Island
José Padilla – So many colours
Hunee – Hunch Music
Ata Kak – Obaa Sima
ALBUMS
Kamasi Washington – The Epic
Pete Rock – Petestrumentals 2
Quintonal – Quintonal
Colleen – Captain of None
The Sorcerers – The Sorcerers
SINGLES
Convertion – Let's Do It (Louie Vega Dance Ritual Mix)
Kamasi Washington – The Rhythm Changes
Kendrick Lamar – Alright
Thundercat – Them Changes
Mild High Club – Undeniable
MARTIN BOEV
ALBUMS
Kendrick Lamar- To Pimp A Butterfly
Earl Sweatshirt- I Don't Like Shit I Don't Go Outside
Kamasi Washington- The Epic
Archy Marshall- A New Place 2 Drown
Flako- Natureboy
SINGLES
Kendrick Lamar- Alright
Tame Impala- Let It Happen
Earl Sweatshirt- Grief
Thundercat- Them Changes
BADBADNOTGOOD & Ghostface Killah- Ray Gun ft DOOM
ALBUMS
Hiatus Kaiyote – Choose Your Weapon
Kendrick Lamar – To Pimp A Butterfly
Niagara – Impar EP
Onra – Fundamentals
Arca – Mutant
SINGLES
Kendrick Lamar – Wesley's Theory
Ge-Ology – Moon Circuit
Marcos Valle – 1985 (Theo Parrish Remix)
Louie Vega & Parliament – Ain't That Funkin
E.M.M.A – Hearts