MIMS Radio Season 2 Finale – S02E10
What a season it's been!
MIMS Radio presented by the Phi Centre has been a favourite project for a lot us, and we're so happy how Season 2 turned out. This last episode features Lexis & ASMA as your hosts, with in-studio performances from Montreal lyricist Husser as well as the rising Montreal R&B singer Shay Lia. We were happy to host London Jazz musician Zara McFarlane in studio for an interview ahead of her Montreal performance. For this episode's Geek Down, ASMA has researched and dug up music that was recorded in prison! Again, a big shout out to the whole team at Phi for being so amazing and hardworking, all the artists and guests who have come through the studio throughout the season, and of course a big thank you to all the listeners from around the world!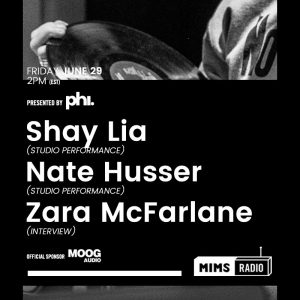 Crucial Material (00:03:19)
In Situ: Husser (00:35:06)
Geek Down: Songs Recorded In Prison (00:42:03)
Conversation with Zara McFarlane (01:10:47)
In Situ: Shay Lia (01:43:02)
Outro (01:56:13)
Listen to the Full Show


Listen & Subscribe on iTunes
Tracklist
Crucial Material
Yazmin Lacey – 90 Degrees
Hugo Fattoruso – Botijas
John Coltrane – Untitled Original 11386 (Take 1)
Tehu – Bias (feat. Leonie Grey)
Benedek – Earlyman Dance
Yes McCan – Forêts (feat. Ogee Rodman, Caballero & JeanJass)
In Situ: Husser
Husser – High For This
Husser – Unicorn
Husser – How To Get Away Proper
Geek Down: Songs Recorded In Prison
Bobby Valentin – Prestame tu Caballo
Eddie Palmieri – Vamonos Pal Monte
Ohio Penitentiary 511 Jazz Ensemble- Psych City
Upheaval – Paradise Lost
Ike White – Changing Times
The Edge of Daybreak- Our Love
Robert Pete Williams – Some Got Six Months
Conversation with Zara McFarlane
Zara McFarlane – Fussin' And Fightin'
Joe-Armon Jones – Almost Went Too Far
Nora Dean – Peace Begins Within
The Congos – Fisherman
Zara McFarlane feat. Leron Thomas – Angie La La (Yoruba Soul Mix)
In Situ: Shay Lia
Shay Lia – Cherish
Shay Lia – All Alone
Outro
Makaya McCraven feat. Emma-Jean Thackray – Too Shy
Guest Links