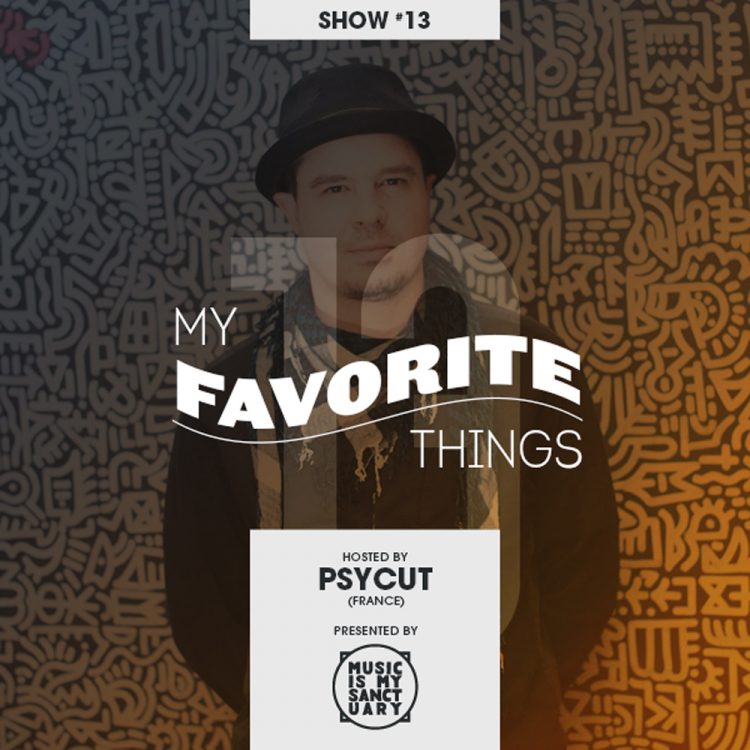 MY FAVORITE THINGS – Show #13 w/ DJ Dusty from Jazz Liberatorz (Hosted by Psycut)
Really excited to have as the first guest for my show my good friend DJ Dusty from Jazz Liberatorz. Ten years ago one, he was one of the first DJ's who played at the Jazz Attitudes Party I started in Paris.
This 13th session of My Favorite Things is, as usual, a mix of forgotten jazz treasures like the unknown Kahil El'Zabar's Ritual Trio, who did in 2000 the lovely and deep Pharoah's Song with a special guest called you might have heard about (Pharoah Sanders) Also the very hard to find Caribbean jazz Swing Hibiscus by Kat Tet and of course some brand new future classics like « Time Grove – Jungle Burjois » (Wah Wah 45), « Ruby Rushton – Eleven Grapes » (22a), « Sam Q's Nightpatrol – Peles Groove » (Mod Bossa) and the unreleased « Afro-Blue Persuasion – Straight No Chaser » (Mo-Jazz/Tramp).
I wanted to make a short tribute, with 4 tracks but I could play so many more, to the lovely voice of Nancy Wilson who passed away recently.
For the second part, Dusty shows his influences and how Jazz Liberatorz is connected to his selections.
From Spiritual Jazz dance to Nu Jazz/Broken beat with a blink of an eye to the sound of Acid Jazz.
TRACKLIST
DJ Psycut (Panorama Records / Easter Sounds Festival) :
01 – Kahil El'Zabar's Ritual Trio – Pharoah's Song (2000)
02 – Time Grove – Jungle Burjois (2018)
03 – Duke Pearson – Horn In (1970)
04 – Ruby Rushton – Eleven Grapes (2019)
05 – Nancy Wilson – Call Me (1966)
06 – Nancy Wilson & Cannonball Adderley – Never Will I Marry (1961)
07 – Nancy Wilson – I'm in Love (1978)
08 – Nancy Wilson – Sunshine (1979)
09 – Jean Grae & Quelle Chris – Gold Purple Orange (2018)
10 – Kev Brown – Jammin' On The One (2019)
11 – 1000 Kings – Kind Of Fuji (2018)
12 – Sam Q's Nightpatrol – Peles Groove (2019)
13 – Afro-Blue Persuasion – Straight No Chaser (Live at Haight Levels Vol.1) (1967)
14 – Kat Tet – Swing Hibiscus (1980)
DJ Dusty (Jazz Liberatorz) :
15 – Louie Vega & Eol Band – Aphrodite (2004)
16 – Stanton Davis and the Ghetto Mysticism Band – High Jazz (2014)
17 – Paola Lima – As Famosas Gargalhadas Do Yuka (2001)
18 – Nuyorican Soul – I'm The Black Gold of the sun (1996)
19 – Incognito – Barumba (1995)
20 – Jhelisa – Friendly Pressure (1994)
21 – Melvin Sparks – If you want my love (1975)
22 – Charles Rouse – Hopscotch (1974)
23 – Eddie Jefferson – Freedom Jazz Dance (1977)
24 – Marcos Resende & Index – Vidigal (1978)
25 – Boogaloo – You gotta have Freedom (intrumental) (2003)
26 – The Anders Hjelmstad – Mystic Brew (2011)
27 – Freedom Or Not – Feel It (Jazzy Remix) (1996)
28 – Elizabeth Shepherd Trio – Reversed » (Nostalgia 77 Main Mix) (2006)
29 – Metropolitan Jazz Affair – Yunowhathislifeez (Motorcity Mix) (2003)
30 – Moravagine – Funky Seven (1976)
DOWNLOAD LINK (VIA SC)