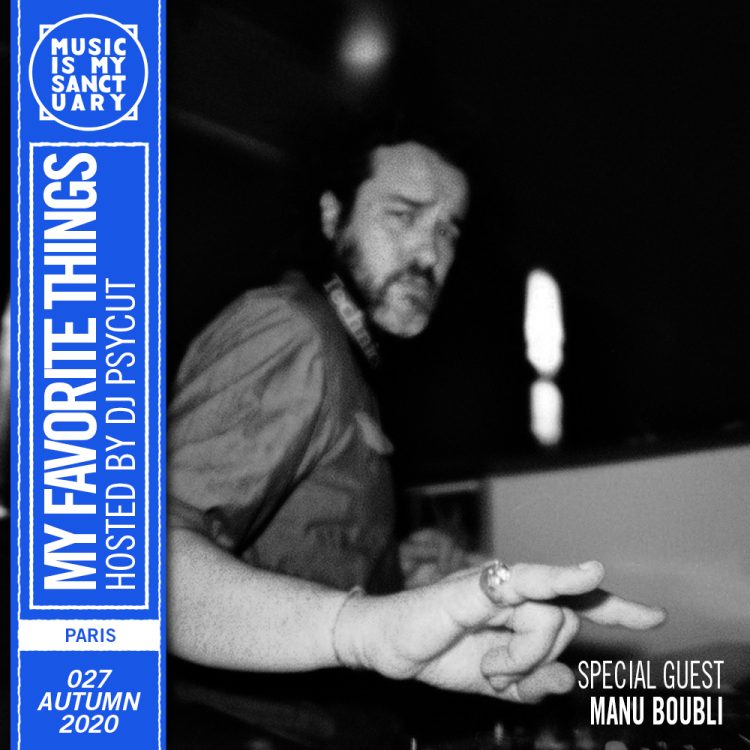 MY FAVORITE THINGS — Show #27 w/ Manu Boubli (Superfly Records) (Hosted by Psycut)
Hi everybody we're back with a very special guest: Manu Boubli, the co-owner of Superfly Records and the guy who has introduced me to deep spiritual Jazz 15 years ago.
For this 27th show I started the first half of the mix with only Future Classics with the lovely spiritual tunes by Asher Gamedze, Phi-Psonics, Raffy Bushman, Cool Affair & Sisonke Xonti and Tenderlonious. Also, the contemporary ambient jazz of Hania Rani and the brand new brazil flavored sound from Caixa Cubo, Ali Shaheed Muhammad and Adrian Younge feat Azymuth and A Bossa Elétrica for a killer Roy Ayers' Cover.
Manu Boubli chose a great selection of his "favorite things" featuring some forgotten and very rare spiritual jazz nuggets from Catalyst , The Lightmen Plus One, Brother Ah, Ayizan, Jack Wilkins , Steve Colson Unity and Sun Ra And His Outer Space Arkestra. For all the jazz dancers you can find the killer tune from David Wertman Sun Ensemble "Forrest Dance", what a Tune!
Coincidentally, as Nat Birchall for My Favorite Things Vol 26, Manu opened his set from a deep reggae track from Count Ossie & The Mystic Revelation Of Rastafari, definitely a must have record. Enjoy!
TRACKLIST
Psycut's set
01 – Asher Gamedze – Siyabulela (2020)
02 – Phi-Psonics – The Cradle (2020)
03 – Raffy Bushman – Look Up (2020)
04 – Tenderlonious – Rocco's Raga (2020)
05 – Hania Rani – Buka (2020)
06 – Mistura Pura – Midnight For Tommy (2020)
07 – Cool Affair & Sisonke Xonti – The Real New World Order (2020)
08 – Okvsho – Kamala's Danz (2020)
09 – Caixa Cubo – Palavras (2020)
10 – Azymuth, Ali Shaheed Muhammad and Adrian Younge – Sumaré (2020)
11 – A Bossa Elétrica – Sob a Luz Do Sol (2020)
Manu Boubli's set
12 – Count Ossie & The Mystic Revelation Of Rastafari – Poem (1972)
13 – Catalyst – Bahia (1976)
14 – Bob Marley – Talkin' 6
15 – The Lightmen Plus One – Ashie (1971)
16 – Build An Ark – Peace And Love (2004)
17 – Gary McFarland – Pecos Pete (1964)
18 – Imani – Just Another Love Song (1983)
19 – Jack Wilkins – Red Clay (1973)
20 – Jeanne Lee – The Miracle Is (1975)
21 – Brother Ah – Key To Nowhere (1983)
22 – Ayizan – Tribilasyon (1984)
23 – Solomon G. Ilori – Prayer (1962)
24 – Steve Colson Unity – Lateen (1980)
25 – David Wertman Sun Ensemble – Forrest Dance (1983)
26 – Sun Ra And His Outer Space Arkestra – Nuclear War (1983)