The sound of a legend,
the size of a book
via Roland: "The Roland Boutique line is a series of limited-edition modules that faithfully recreates some of Roland's most legendary synths.
With highly-authentic sound reproduction, they're also extremely portable, with a built-in speaker and battery operation for making music whenever—and wherever—you want."
about JUPITER-8
The JUPITER-8 is perhaps the most beloved of Roland's synthesizers. Introduced in 1981, the 8-voice, analog powerhouse was a revelation to use, with an abundance of controls on the front panel. Most parameters had a dedicated controller which encouraged musicians to experiment, unleashing a sonic revolution that helped define the sound of the 1980s. The powerful synth engine was highly flexible with discrete analog circuitry able to create everything from majestic, ethereal pads to the punchiest lead sounds – especially when all 16 oscillators were stacked up in unison mode. Although only produced for a few years, the true legacy of the JUPITER-8 can be found through the people who used it. Even at the time, it graced the keyboard rigs of some of the world's biggest bands and it quickly became the synth of choice when you needed a big sound for your record. Things became even more interesting after Roland stopped making the JUPITER-8. With the sound still in demand but only a limited number of synths in circulation, the JUPITER-8 became rare, expensive and highly covetable and the legacy of the JUPITER-8 is as strong now as it was over 30 years ago – and it still sounds amazing.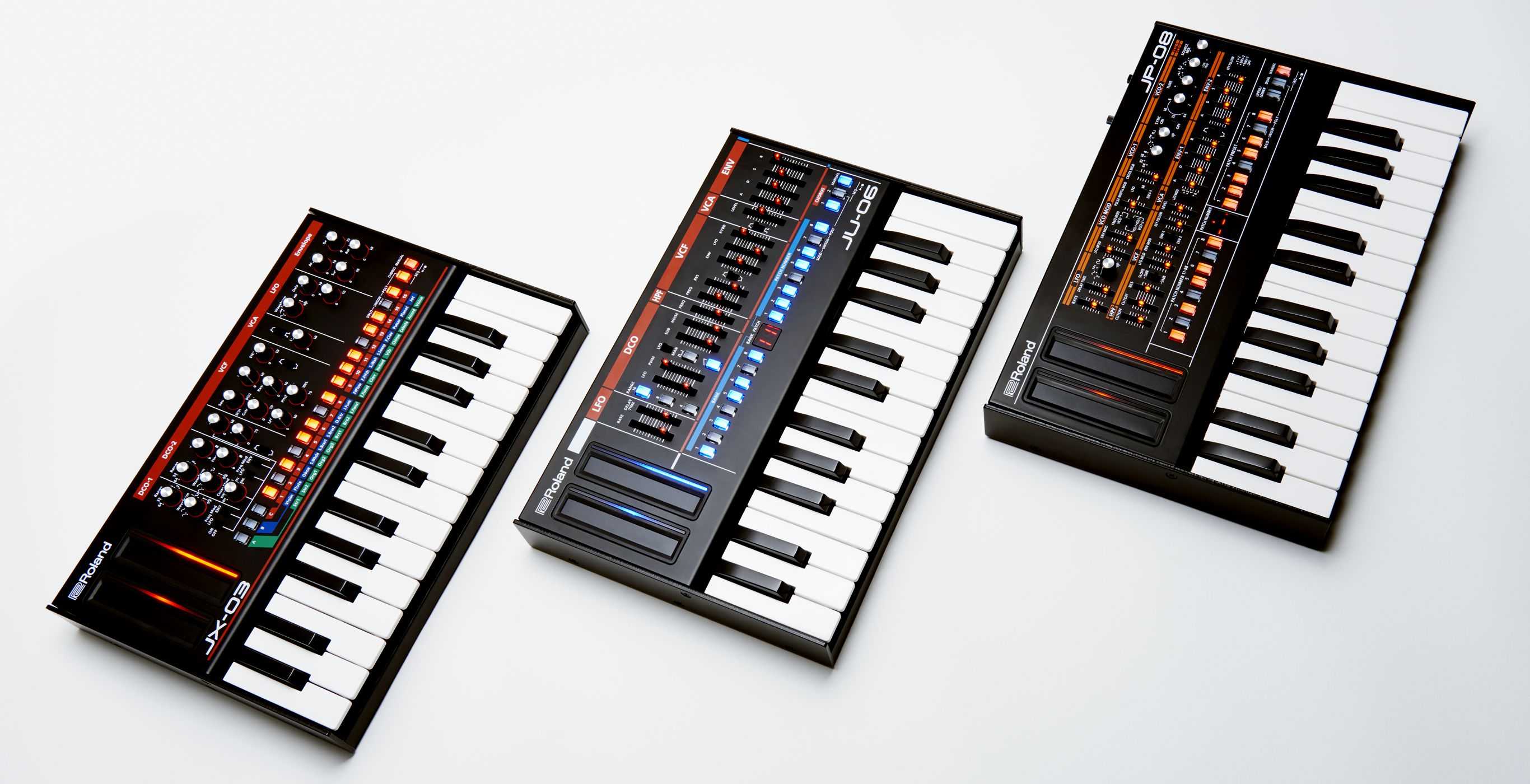 .
about JX-3P
Introduced in 1983, the JX-3P was Roland's first analog synth with MIDI. Sharing the 6-voice polyphony of its JUNO stablemates, it also shared a variety of analog components including the classic Roland voltage-controlled filter (VCF). But the presence of two digitally controlled oscillators (DCOs) per voice gave the sound a distinctive, deep character that musicians loved – encompassing everything from big, sweeping pads to warm lead sounds bursting with personality. The 3P stood for Programmable Preset Polyphonic, meaning this was a synth designed for instant access to big sounds, with a straightforward button-driven user interface. However, the JX-3P was highly programmable – especially when used with the optional PG-200 controller which transformed the synth into a programming powerhouse by adding an array of rotary knobs for instant sound shaping and experimentation.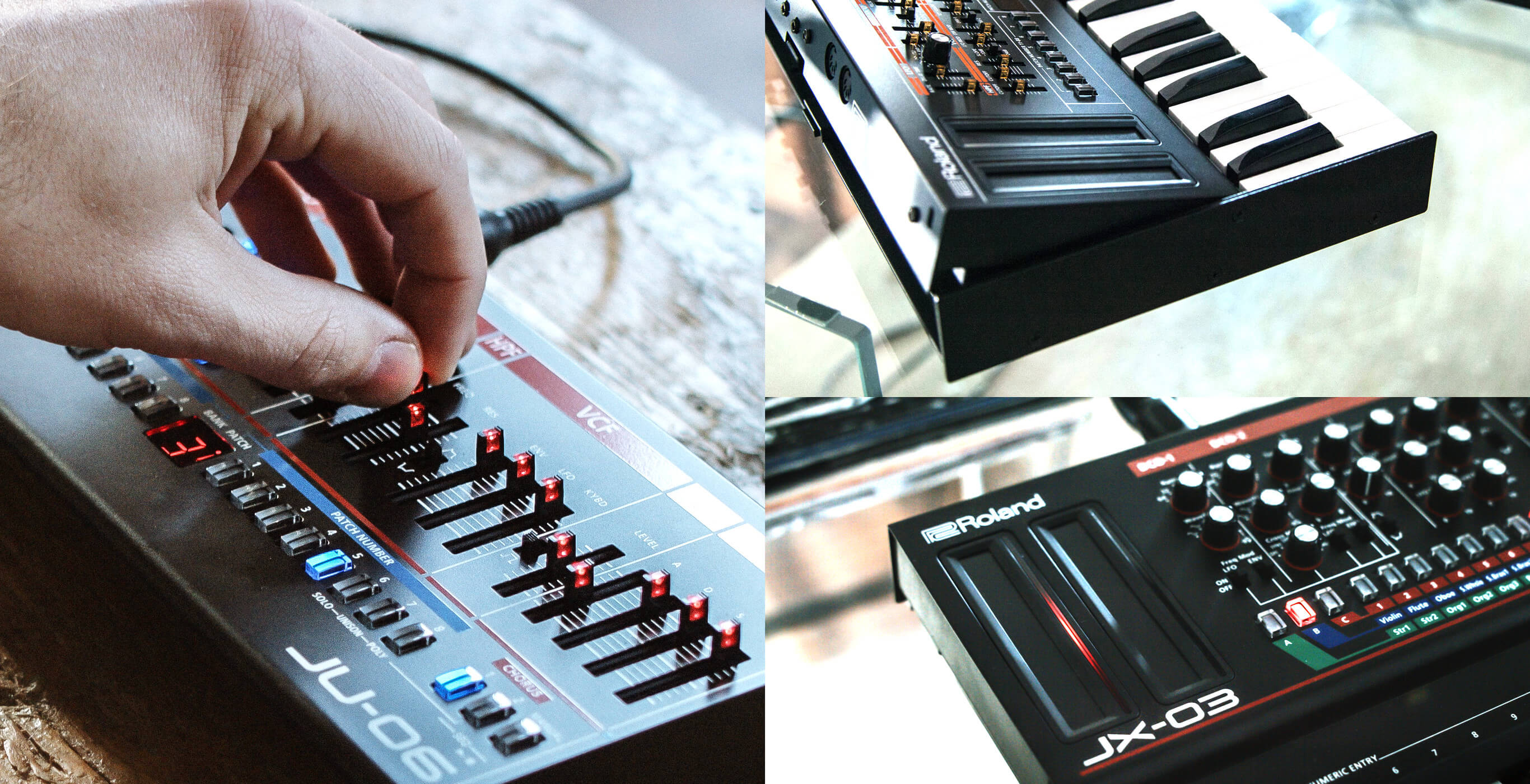 .
about JUNO-106
The JUNO-106 was a 6-voice analog synth released in 1984, making it one of Roland's first MIDI synths. The third in the JUNO series, following the JUNO-6 and JUNO-60, some people consider the JUNO-106 to be among the last great synths of the analog era; it was definitely among the last to feature many dedicated controllers and buttons for fast, easy programming. The 106 retained the warm analog signal path of its predecessors, including a silky-smooth 24db analog low pass filter. But since each voice was driven by its own digitally controlled oscillator (DCO), it was stable and reliable with super-sharp envelope generation. Musicians quickly adopted the versatile JUNO-106, and it became (and remains to this day) a studio classic. Renowned for its pads, but also capable of punchy basses and searing leads, the JUNO-106 can be heard on countless records and is a firm favorite within the house and techno genres. What's more, its simple, hands-on nature made it ideal for learning about synthesis and how to create sounds from scratch.
… as Legowelt would say: syntheziers!