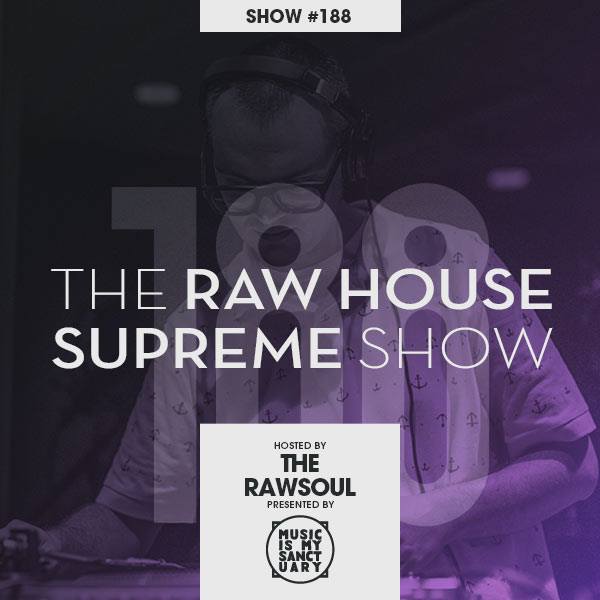 The RAW HOUSE SUPREME Show – #188 Hosted by The Rawsoul
Around 35 years of soulful dance music covered in this edition.
From new sweetness courtesy of Josh Milan & Mike City to some stone cold classics by Evelyn King & Surface. Also, in between, many classics from the NYC / NJ area and some more lost cuts from all around!!!
TRACKLIST
1.Soul II Soul – Wish
2.Josh Milan – Blackbird
3.Blaze Presents Alexander Hope – Fly Away
4.Shine Presents Eddie Stockley – Fly Away
5.Angee Blake – Reach For The Sky
6.Frontline Symphony – Reach Out
7.Red Paradise – You've Got To Move
8.Basil Hardhaus 2 – Make Me Dance
9.Jovonn – Be Free
10.The Foundation ft Jay Williams – Rejoice
11.DJ Deep ft Olivier Portal – Inner Peace
12.William Alexander – Willaney Slang
13.Joe Santos – Jazz Grinder
14.Kerri "Kaoz 6:23" Chandler – I'm Ready
15.Kool Vibe – Basics
16.Terry Hunter ft Sharon Jarvis – I Can Make You See
17.Ubiquity – Back To Me
18.Love & Sas – Call My Name
19.Ten City – Whatever Makes You Happy
20.Kurt Lykes – Yes Lord
21.Thatmanmonkz – For Bae
22.Mike City ft Faith Evans – When I Luv
23.Evelyn King – Love Come Down
24.Surface – Falling In Love
25.Pal Joey – Chopsticks
DOWNLOAD LINK
Listen & Subscribe to The RAW HOUSE SUPREME SHOW on iTunes