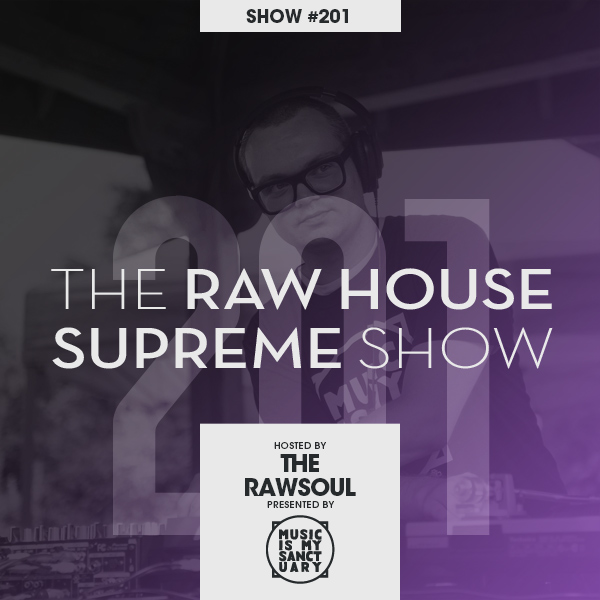 The RAW HOUSE SUPREME Show – #201 "Strictly Rhythm Showcase Pt. 2" (Hosted by The RawSoul)
The "Strictly Rhythm Showcase" Part 2.
Here's another focus on one of the most influential labels in dance music history. With a vast, prolific and impressive catalogue, a crazy variety of sounds could be found on the imprint. This episode concentrates on the deeper side of the label with choice cuts courtesy of Wayne Gardiner, After Hours, 95 North, Roger S., Kerri Chandler, Masters At Work, Tony Varnado, Aly-Us, Mood II Swing, House 2 House, U.P.I., Brothers Of Peace and loads more!
TRACKLIST
1.Logic – The Warning
2.Mecca – Herbal Essence
3.After Hours – Waterfalls
4.Uzuri – Key Waves
5.DV8 – Old School House
6.Dance Syndication – Dancefloor
7.Scram – Come On
8.Raw Power – Movement
9.Essence – Just A Touch
10.K.C.Y.C. – Under Control
11.DV/8 – Give It All To You
12.Earl Bennett – Alright
13.Hardrive ft L.G. – Sindae
14.DV8 – This Beat Is Over
15.Emenar One – Get Your Thang Together
16.The Al Mack Project – Nightlife
17.Aly-Us – Go On
18.Unity – Work It Out
19.Chronic Sounds – Evelin's Basement
20.The Untouchables – Somethin Bugged
21.Sound Advice ft Keith Thompson – Love And Understanding
22.Frontline Symphony – Reach Out
23.Guys From Philly – Everybody Move
24.U.P.I. – Better Love
25.Yoshito – Soul Kissin
26.Total Ka-Os – Get On Up
27.House 2 House – Boom
28.Simone – My Family Depends On Me
29.Rhythm Factor ft Vee Woodruff – Survive
DOWNLOAD LINK
Listen & Subscribe to The RAW HOUSE SUPREME Show on iTunes