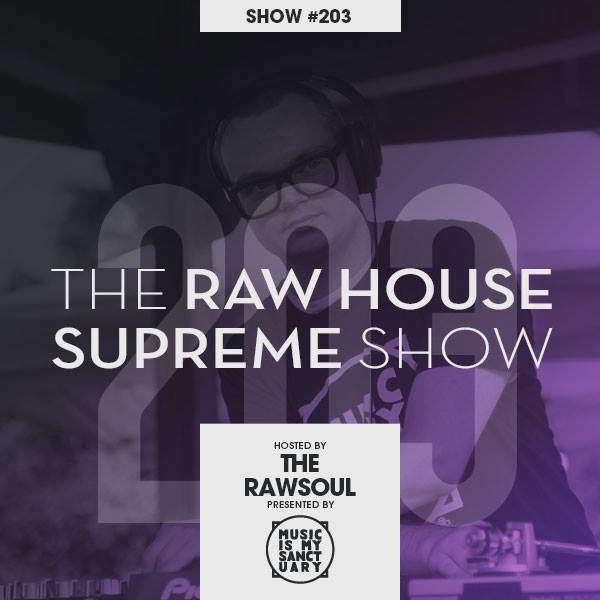 The RAW HOUSE SUPREME Show – #203 "Strictly Rhythm Showcase Pt. 4" (Hosted by The RawSoul)
The "Strictly Rhythm Showcase", Part 4.
Late night deepness, silky soulful jams and plenty of lost treasures on this fourth show focusing on the legendary NYC label. Feel the music!
Sweetness courtesy of Wayne Gardiner, Roger S., MK, DJ Pierre, Brothers Of Peace, Sound Waves, House 2 House, Ron Allen, Insight, Murk, Kenny Dope, Dan Curtin, Krimp, King Britt, Josh Wink and much more!
TRACKLIST
1.Sound Waves – I Wanna Feel The Music
2.Insight ft Ashaye – Fantasy
3.Logic – The Difference
4.The Wamdue Project – Remember The Memory
5.Thee Housecat Experience – Life
6.Scram – Break Of Dawn
7.Logic – Celebrate Life
8.South Street Player – Stop Using People
9.Essence – Moments In House
10.After Hours – Feel It
11.Total Capacity – Celebrate
12.World Premiere – Try
13.D-Tune – Don't Let Go
14.Warpath – I Believe
15.Earl Bennett – So Glad (I Found You)
16.K.E.L.S.E.Y. – This Way
17.House 2 House – Do 4 Me
18.Paradise By Insight – Paradise By Insight
19.George Morel – In A Groove
20.Shadii – My People
21.The Untouchables – Go Bah (Los Africanos)
22.Afro-Cube – Sugar Cane
23.Dan Curtin Presents Time Undefined – Cascade
24.E-Culture – Tribal Confusion
25.Krimp – Feel It
26.Reality Check – Fantasy
27.Joint Venture – Master Blaster (Turn It Up)
28.The Believers ft Heather Wildman – Gotta Keep Holding On
DOWNLOAD LINK
Listen & Subscribe to The RAW HOUSE SUPREME Show on iTunes