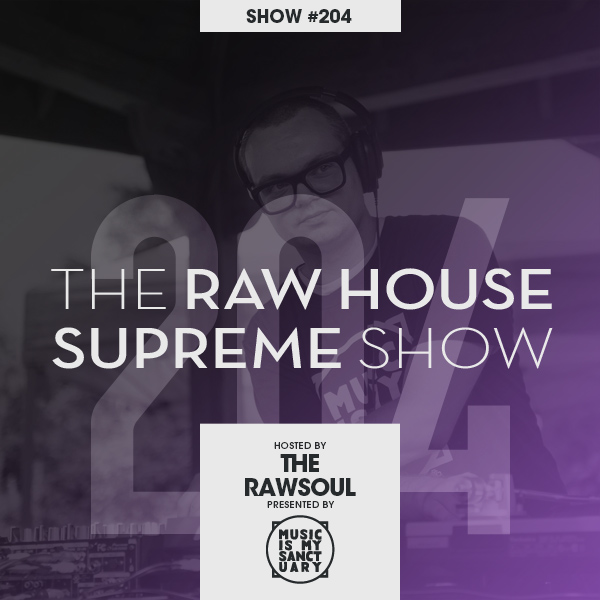 The RAW HOUSE SUPREME Show – #204 "Strictly Rhythm Showcase Pt. 5" (Hosted by The RawSoul)
The "Strictly Rhythm Showcase", Part 5.
A final dose of classics and lost tracks from the seminal NYC label. 3 hours of non stop body rocking tracks and deep sweetness.
Diverse sounds courtesy of Armand Van Helden, Roger S., DJ Sneak, MK, Danny Tenaglia, Lil Louis, Masters At Work, Barbara Tucker, Colonel Abrams, U.P.I., Satoshi Tomiie, David Morales, Arnold Jarvis, Krimp, Todd Terry, DJ Pierre, Logic, Sound Waves, Tony Humphries, Chris Brann and so much more!!!
TRACKLIST
1.Roger S. – Let Yo Body Jerk
2.Barbara Tucker – I Get Lifted
3.Sneak Essentials – In Da Clouds
4.U.P.I. – Without Love
5.Kitchen Sync 2 – Police Squad
6.RBM – Latin Flavor
7.Tribal Infusion – Sumba-Lumba
8.U.P.I. – That String Track
9.Jack And Jill – You Make Me Feel (Mighty Fierce)
10.Black Magic – Freedom (Make It Funky)
11.Krimp – In The Spirit
12.The Mole People – Break Night
13.Lou2 – Freaky
14.Equinox – Code 718
15.Loop 7 – The Theme
16.636 ft Arnold Jarvis – Rain
17.The Untouchables – Just Da Way U Want
18.Instrum – Say Yeah
19.U.P.I. – Outta Site
20.K.E.L.S.E.Y. – Boy
21.CLS – Can You Feel It
22.Djaimin – Give You
23.Hardrive – Just Believe
24.DJ PIerre – Pump It Up
25.Ira Levi – Nothin' (Stop Me Now)
26.Sole Fusion – We Can Make It
27.Butch Quick – Under Pressure
28.Jump-N-Jazz Cafe ft Blue Jean – You Make Me Feel Good
29.D.E.K. ft Edward Nicholas – You Make Me Carry On
30.Logic – Hold Me
31.Mark Davis – You're Special
32.Roy Davis Project III – Just A Lil Luv
33.Barbara Tucker – Stay Together
34.Colonel Abrams – Victim Of Loving You
35.South Street Player – (Who) Keeps Changing Your Mind
36.The Crucibles – I Need You So Bad Baby
37.Sound Waves – Give It Up Girl
38.Ecstasy Boys – Holy Spirit Dance
39.Ira Levi – Do What You Like
DOWNLOAD LINK
Listen & Subscribe to The RAW HOUSE SUPREME Show on iTunes