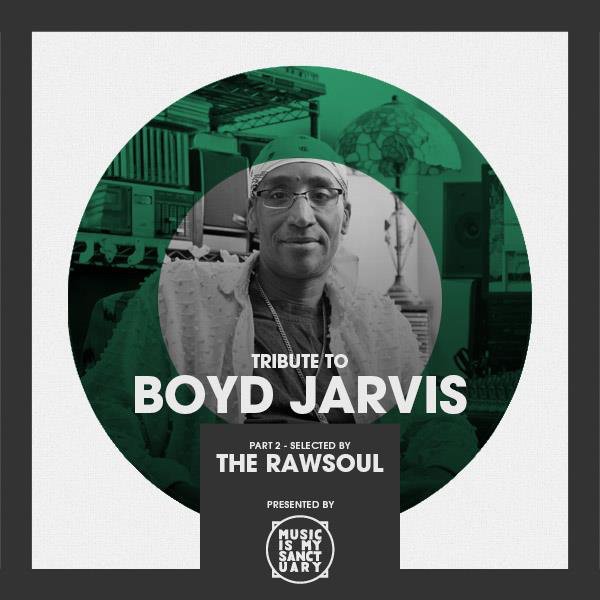 The RAW HOUSE SUPREME Show – #206 "Tribute To Boyd Jarvis, Pt. 2" (Hosted by The RawSoul)
The Boyd Jarvis Showcase, Part 2.
The impact and influence the late Boyd Jarvis had on the early development of the House music movement is absolutely undeniable. His early productions around 1983 didn't sound like Disco, Boogie or the contemporary R&B flavours of that time. The pulsating rhythm and haunting keyboard works of his music introduced New York to a sound that didn't have a name at that time, which eventually became known as: House Music.
Most people are familiar with his Visual project, or the early demos of Colonel Abrams which he played on, but his body of work goes much deeper with plenty of collaborations with producers such as Timmy Regisford, Joe Claussell, François K, and Glenn Toby amongst many others. You've probably heard his keyboard wizardries on lots of records without even knowing it. This mix features plenty of lost cuts, remixes, and classics, featuring his unique vision behind the keys!
TRACKLIST
1.Boyd Jarvis At Last – Timpini
2.The Klub ft Crystal Glass – Stand Up
3.World Power ft Althea McQueen – I'm Happy
4.Criminal Element Orchestra – Gotta Have It
5.Stimulation – Stimulation
6.React – Love Reaction
7.Extortion ft Dihan Brooks – How Do You See Me Now
8.Barbara Dixon – I Got Over You
9.Ten City – That's The Way Love Is
10.Aurra – You And Me Tonight
11.MSG ft Glenn "Sweety G" Toby – I Can Tell
12.Loose Ends – Watching You
13.Aurra – Like I Like It
14.Boyd Jarvis – In The Jungle
15.Carl Bean – I Was Born This Way
16.Rydim – Rydim #1
17.Level 3 – Central Line
18.Valerie Ingram – Are You Faithful?
19.Boyd Jarvis – Guitar Space
20.Simphonia – Can't Get Over Your Love
21.Tammy Lucas – Hey Boy
22.Curtis Hairston – I Want Your Lovin' (Just A Little Bit)
23.Visual – Somehow, Someway
DOWNLOAD LINK
Listen & Subscribe to The RAW HOUSE SUPREME Show on iTunes