Space Ghost Discusses Latest LP "Endless Light"
Celebrating their 10 Year Anniversary as a label, Tartelet Records has lined up a nice release schedule for 2018 from label mainstays and new signees. To kick things off, they've set free "Endless Light", the new record from Oakland newcomer Space Ghost.
Coming on like a brainchild to Dam Funk and Mutant Beat Dance, Ghost's sound falls off the shelf between a number of distinct reference points: Lone's early tropical synaesthetics, the modern funk of the Funkmosphere, and the intimate tapes out of PPU.
We caught up with Space Ghost to let him lend some insight into his thought processes when creating "Endless Light".
What was happening in your life while creating "Endless Light", and did that translate into its creation?
When I made the album it felt as though I had an endless supply of creative energy, and the music all felt very positive. The album is supposed to give very relaxed and meditative vibes, and is supposed to take you on a mini journey. Hopefully it inspires people as well.
What was the creation process when recording the album?
Aside from the first track which was recorded in 2016, I recorded "Endless Light" in my bedroom in Oakland, CA in 2017. It was created using a couple of analog synths, Ableton Live, and some drum machine samples. At the time, I had 4 days off from work in a row, so I would wake up, have a bit of coffee and breakfast, then start working on my music. With such a nice relaxed schedule, I spent a few months and really took my time to create some good tunes. I wish I still had that much free time!
What was the hardest part to get right when creating this release?
The hardest parts came before and after writing the music. It took me a few years to develop a new sound and direction to get inspired by and create within. Then once I felt some true inspiration envelop me, I found myself stumbling into the creation of the album. Afterwards it was very hard trying to figure out how to get the world to hear what I had made and finding out where to get the album pressed to vinyl. I debated putting it out myself some how, before taking the chance of sending it to labels. Thankfully when I made the decision to find a label, Tartelet showed immediate interest in releasing the record.
How many tracks did you make before settling on these 12?
I made perhaps 35-45 songs in 2016 that were great practice but not quite the right idea. Then when I started making the first few tracks that would inspire "Endless Light", I actively made the 12 you hear on the album. I wish I could say there were B-sides and leftovers, but there really wasn't.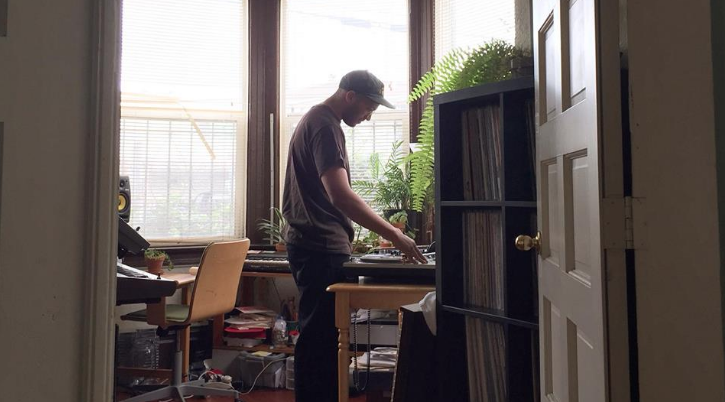 Why is Tartelet Records a good home for this project, and how did you link up with them?
Well, I initially Tartelet was one of my favourite labels as of the last few years so I sent them an email cold hoping for a response. It was pretty rad when the emailed me the following day sounding excited about the music! I was kind of shocked because I really liked the music on their label but wasn't sure that my album sounded anything like it. In hindsight, it makes a lot of sense for this project to be with Tartelet, because their sound is constantly shifting and inviting of new ideas from young artists.
What's the ideal listening atmosphere for this release?
I guess that's up to the listener, I mostly listen to it by myself in my car or on my headphones. I remember when I was working on the album I would give it test runs in my car late at night, it was very moody. I've heard from others that they really enjoy listening to it at home, but I still think some of the tracks are upbeat. I would love to play it loud at more shows and let it wash over everyone.
If you were to play "Endless Light" in full while DJing, what songs would you play before and after this release?
I'm honestly still trying to figure that one out! I'm always interested in hearing in what ways people are putting my songs in their radio shows and mixes. At this point I've heard the album so many times, its hard for me to truly hear what music is similar to it. I played the album at a show in March, at the end of my set, I played a couple of records, I put on 'Delicate Rose' by Hill. So I guess potentially it should mix well with House, and maybe some homemade Funk sort of stuff.
---
Follow:
Release Info:
Endless Light is a record with an open hand: an instantly appealing sound from a new producer with a highly-tuned ear. Born of his collection of antique synths and drum machines, the Space Ghost experience channels a deep heritage of 1980s funk minimalism and analogue boogie. Velvet pads, hood-rat sleaze, and heaped spoonfuls of soul.
Never overly reverential or nostalgic, the record looks forward to a strange, bright future. Its sweeping sci-fi synths and twinkling sound design recall Lone or Dorian Concept's first outings into cosmic psychedelia. "Cosmic Cave" packs enormous ambient vistas into a bejewelled miniature. Frosty interlude "After Hours While It Rains Outside" touches the same cold nerve as Vangelis on Blade Runner. The gently vocoded love jam "Strong Heart" could've even fallen out of the Stranger Things playbook.
And there's heat for the club too. Nearly all the low swung beaterludes pick up into skippy house sketches and loping dancefloor cuts. Rather than squeeze into club music's often taut wireframes, tracks like "Colour Waves" and "Following A Vision" dance effortlessly between time signatures. Cruising gems "Endless Light" and "Aquatic Speedway" even go full hilt into the lush domain of vintage Burrell Brothers productions.
Throughout, Space Ghost stands out from the mounds of music today defined by lo-fi aesthetics. These are twelve enchanting cuts from a producer who has barely pulled back the curtain on his prowess. Supreme tip for 2018.