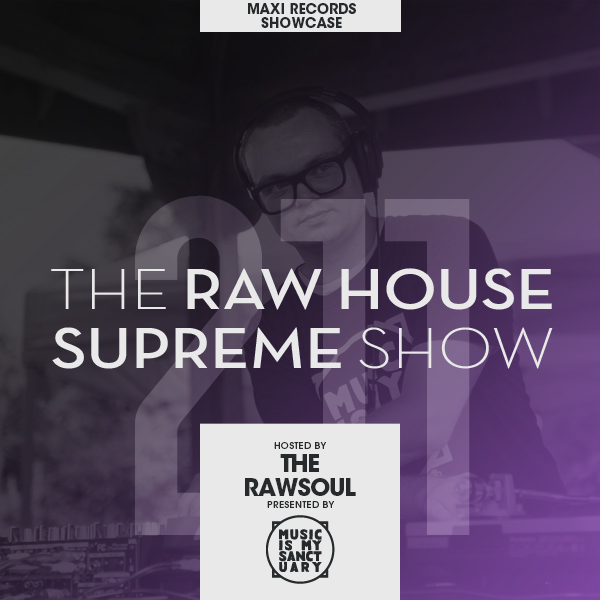 The RAW HOUSE SUPREME Show – #211 "Maxi Records Showcase" (Hosted by The RawSoul)
A "Maxi Records" Showcase.
This edition features the seminal works of Maxi Records which was another essential label when the New York House sound was exploding. Many different vibes could be found on the label with a roster of artists ranging from Mood II Swing, Danny Krivit, Victor Simonelli, Danny Tenaglia, Pal Joey, DJ Pierre, Roger S., Tony V., Daphne, Judy Albanese, Sagat, Cevin Fisher, Naked Music and many others. Turn this mix up to the MAXImum and feel the ride!!!
TRACKLIST
1.Urbanized ft Silvano – Helpless (I Don't Know What To Do Without You)
2.Daphne – Change
3.Mello House – The Flower
4.DJ Pierre ft Sabrynaah Pope – Together
5.Nick Jones – Dedication
6.Soulboy – Harmonica Track 97
7.Daphne – When You Love Someone
8.Sagat – Get Outta My Face
9.Espresso – Ping Pong
10.Roger S. Presents Soundshaft – Get Up
11.Grand Diva Tour ft Lisa Carson – Find Somebody New
12.Mello House – Organ Ride
13.Judy Albanese – Happy
14.From The Mind Of Byron Burke – String Section
15.SK Project – Your Love Is Taking Me Over
16.Eternity ft Alvoughn Jackson – Real Love
17.Judy Albanese – That Ain't Right
18.Big Muff – Feel What You Know
19.Katrina Vaughn – Deep Day
20.Freek Beat – Chez Vous
21.Sagat – Fuk Dat
22.Deja Vu – So Get With It
23.Espresso – Let's Get Down
24.Dawn Martin – Can You Feel The Music
25.Second Choice – I Can't Resist (Move Your Body)
26.Cevin Fisher – The Way We Used To
27.Cevin Fisher – Music Saved My Life
28.The Carlos Sanchez Movement – Flying High (Got To Keep On)
29.Big Muff – My Funny Valentine
DOWNLOAD LINK
Listen & Subscribe on iTunes