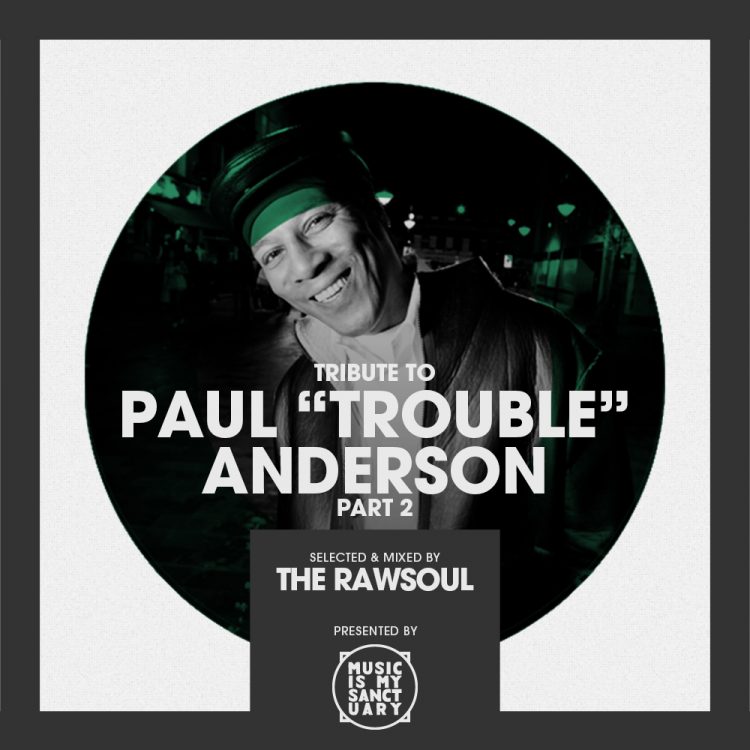 Tribute to Paul "Trouble" Anderson (Part 2) – Mixed & Selected by The Rawsoul
Another very special and personal tribute mix dedicated to the memory of Paul "Trouble" Anderson. He was one of the most influential British DJ when it came down to break the Soulful House and Garage sound coming from NYC / New Jersey in the late 80's and early 90's.
His unique, raw and intense style of mixing secured him countless gigs from early raves in the second summer of love to his legendary Loft parties. His adventurous programming at the Advanced Dance Mix Show on Kiss FM was unlike any other dj's in the early 90's. He was definitely championing the American flavors of the House spectrum while at the same time incorporating Disco classics, Italo House, Breakbeat oriented tracks and early european "funkier" Techno tracks. Somehow he was a British equivalent of Tony Humphries with his own personal twist on the music.
This mix features anthems from The Loft and The Advanced Dance Mix Show. Play loud and do remember: "Trouble is in the Land"!!! R.I.P. Trouble!
TRACKLIST
1.Barbara Tucker – Beautiful People
2.Braxton's Funky Disco Midgets – Disco Midget Anthem
3.Captain Rapp – Bad Times (I Can't Stand It)
4.The Zoo Experience ft Overjoyd – Just Follow The Vibe
5.Aaron Smith ft D'Bora – Going Round
6.Loni Clark – Rushing
7.Moodlife ft CeCe And Sonya Rogers – Movin' On
8.95 North ft Sabrynaah Pope – Hold On
9.Intense – Hold On
10.So Smooth – Soon
11.Slam Slam ft Dee C. Lee – Something Ain't Right
12.Disco Elements – Feel The Body Heat
13.Wall Of Sound ft Gerald Letham – Critical (If You Only Knew)
14.Valerie Harley – When You're Next To Me
15.Cassio – Baby Love
16.Delicious – Satisfaction Guaranteed
17.Chocolate Fudge – In A Fantasy
18.Bass Hitt ft Dreamgirl Veee – The Beat That Makes U Move
19.Alexander Hope – Dancin'
20.Jersey Maestros Presents Kim Beacham – Looking Up
21.Sole Fusion – We Can Make It
22.A Blaze Project ft Hunter Hayes – Why Can't We Live Together
23.Outburst Coalition – Help Me
24.Gerideau – Take A Stand For Love
25.Leon Neal – Education
26.Brooklyn Underground – Someday Someway
27.Black Ivory – Mainline
28.South Shore Commission – Free Man
29.Curtis Mc Claine And On The Move – Let's Get Busy
30.Billie – Nobody's Business
31.Mijan – Alright
32.Donald O – Be Alright
33.Incognito – Givin' It Up
34.Pauline Henry – Love Hangover
35.Kathy Wood – Bring Me Joy
36.Spring – Stick Together
37.Susan Clark – Deeper
38.Fallout – The Morning After
39.Victor Romeo Presents Leatrice Brown – Love Will Find A Way
40.Nouveaux Nation – It's Just A Dream
41.Arnold Jarvis – Take Some Time Out
42.Sha-Lor – I'm In Love
43.Jovonn – Turn And Run Away
44.Michael Watford – Baby Love
45.Ten City – My Piece Of Heaven
DOWNLOAD LINK