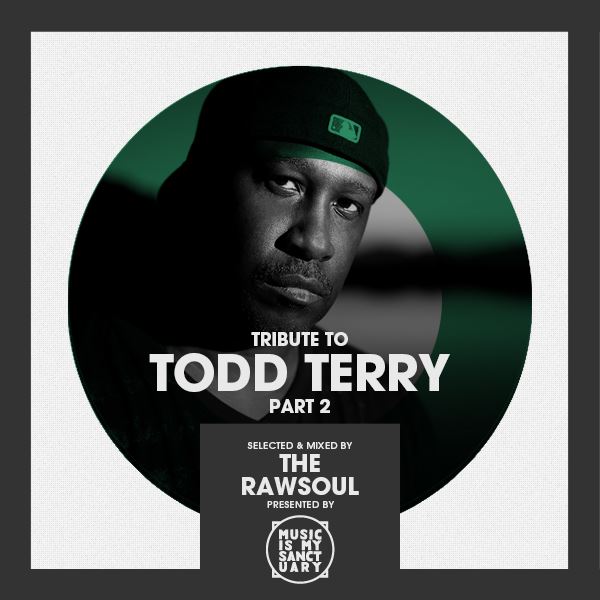 Tribute To Todd Terry (Pt. 2) – Mixed by The RawSoul (The RAW HOUSE SUPREME Show #210)
Part 2 of the Todd Terry Showcase for The Raw House Supreme Show!
Focusing on the works of the legendary producer, this mix features his unique sound which perfectly combines the Hip Hop aesthetics of sampling with slamming House grooves. Straight up classic productions, underground anthems, essential remixes, and lost tracks in the mix!
TRACKLIST
1.Todd Terry – Desire – What I Want
2.Peter Blakeley – I've Been Lonely
3.Martha Wash – Runaround
4.Kenny "Dope" Gonzalez Presents Axxis – Dancin'
5.Todd Terry – Balah Hilah
6.The Todd Terry Unreleased Project – Nitty Gritty
7.Snap – Rhythm Is A Dancer
8.House Of Gypsies – Sume Sigh Say
9.Sound Design – Melissa's Dream
10.Sound Design – The Feelin'
11.Sound Design – Bounce To The Beat
12.The Todd Terry Unreleased Project – Jumpin'
13.Todd Terry Presents Martha Wash & Jocelyn Brown – Keep On Jumpin'
14.Todd Terry Unreleased Project – Dance With Me
15.Fingertrips '96 – I Thought Your Love
16.Todd Terry Unreleased Project – Honey Free At Last
17.The Bucketheads – Got Myself Together
18.Sinnamon – I Need You Now
19.Definition Of Sound – Pass The Vibes
20.Todd Terry Unreleased Project ft Tonya Wynne – Make That Move
21.Blair – Life?
22.Limelife – Baby Can You Reach
23.Unknown Society – Reach Higher
24.Nerissa – Stars
25.Todd Terry Presents Sound Design – So Everybody (Get Off It)
26.Everything But The Girl – Missing
27.MN8 – I've Got A Little Something For You
28.Montell Jordan – This Is How We Do It
29.Darryl James / David Anthony Project – Buddah
30.Soul II Soul – Love Enuff
31.Malaika – Gotta Know (Your Name)
32.House Of Gypsies ft Al Wise – Another Worry
33.Dream Team – Love Is What We Need
34.Richard Elliot – So Special
DOWNLOAD LINK
Listen & Subscribe on iTunes