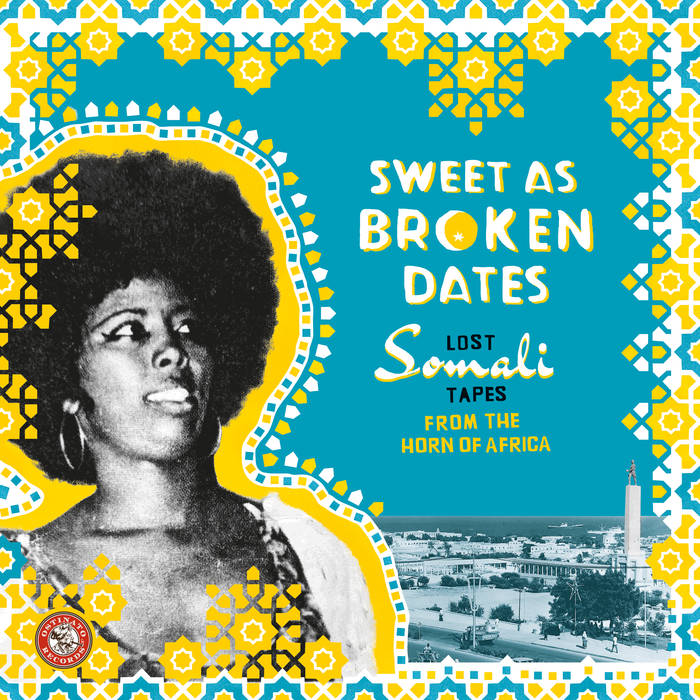 Various Artists "Sweet As Broken Dates: Lost Somali Tapes from the Horn of Africa" (Ostinato)
via Ostinato: In 1988, on the eve of a two decade civil war, Somalia's authoritarian ruler Siad Barre launched punishing air strikes on the north of the country, known today as Somaliland, in response to agitations for independence.
The bombing levelled the entire city. Barre targeted Radio Hargeisa to prevent any kind of central communication system that could organize a resistance.
With the attack imminent, a few brave radio operators and dedicated vanguards of Somali culture knew the archives, containing over half a century of Somali music had to be preserved. Thousands upon thousands of cassette tapes and master reels were quickly removed from the soon-to-be targeted buildings. They were dispersed to neighboring countries like Djibouti and Ethiopia, and buried deep under the ground to withstand even the most powerful airstrikes.
"We buried them in the ground so the bomb's won't hit," one former leading journalist with Radio Hargeisa told us.
These audio artifacts were excavated and recalled from their foreign shelters only very recently. Some of those recordings are now kept safe in the 10,000-strong cassette tape archive of the Red Sea Foundation, the largest collection of Somali cassettes in the world, in Somaliland's capital, Hargeisa. The Ostinato Records team digitized a large portion of the archive, distilling 15 songs that reveal the panoramic diversity of styles and sophistication of Somali musicianship.
Over a millennia of trade in the Indian Ocean invited the cultures of the Arabian Peninsula, Persia, India, Southeast Asia, and even China to slowly work their melodies, scales, and sounds into Somalia's rich musical repertoire. Each track is a keen illustration of a carefully refined, rarely revealed cultural crossroads of the world.
The archive offered a living window to the Mogadishu of the 1970s and 1980s, when the coastal capital glistened as the "Pearl of the Indian Ocean", when wine flowed freely. With its iconic ivory-coloured architecture and crescent beaches overlooking the Indian Ocean, Mogadishu was home to the lavish Al Uruba and Jazira sea side hotels, where youthful bands like Iftiin, Sharero, and Dur Dur serenaded cosmopolitan crowds at some of the most elegant nightclubs in East Africa. These damaged cassettes evoked memories of the revered national theater, where Waaberi Band provided unforgettable soundtracks.
Mogadishu's nightlife culture was rich and booming. Raucous rhythms, rugged horns, celestial synthesizers, and stalking baselines came alive alongside majestic voices like Mahmud "Jerry" Hussen and powerful and adored female singers like Faadumo Qaasim, Hibo Nuura, and Sahra Dawo. Somali music of this era is set apart by its empowerment of women. Female singers, often more prolific than their male counterparts, are inseparable from its evolution. Half the compilation is sung by women, their voices often compared in Somali poetry to the sweetness of broken dates. Poetry, intrinsic to the cultural fabric, forms the foundation of Somali songwriting.
Somali music's golden age, curiously, occurred under a socialist military dictatorship, which effectively nationalized the music industry. A thriving scene was owned entirely by the state. Music was recorded for and by national radio stations and only disseminated through public broadcasts or live performances. Private labels were virtually non-existent. This music was never made available for mass release. Almost all recorded material came from original masters or homemade recordings of radio broadcasts. As a result, most of it has never been heard outside Somalia and the immediate region.
During the Cold War, Somalia drifted between Soviet and American support — and a decade of U.S. backing allowed soul and funk to capture the imagination of Somali youth, adding the final touch on this masterpiece era.
This project took our team to Mogadishu, Hargeisa, Djibouti, and across the Somali diaspora in Europe, the United States, and the Middle East. For the last year, from Minnesota to Mogadishu to Malaysia, we have tracked down the musicians, songwriters, composers, former government officials, and quirky personalities that colored Somali music life. Their words and stories are revealed in a 15,000-word liner note booklet — the only document of its kind to cover this era of Somali music in depth.
Alongside the story of Somalia's music before the civil war, the selection is also focused on the pan-Somali sound. Spread over much of the Horn of Africa, Somali language and culture transcend arbitrary borders. Somali singers from Djibouti were at home in Mogadishu.
This compilation seeks to revive the rightful image, history, and identity of the Somali people, detached from war, violence, piracy, and the spectre of a persistent threat. These 15 tracks should serve as a necessary starting point.
"Sweet As Broken Dates: Lost Somali Tapes from the Horn of Africa" released August 25, 2017 on Ostinato Records