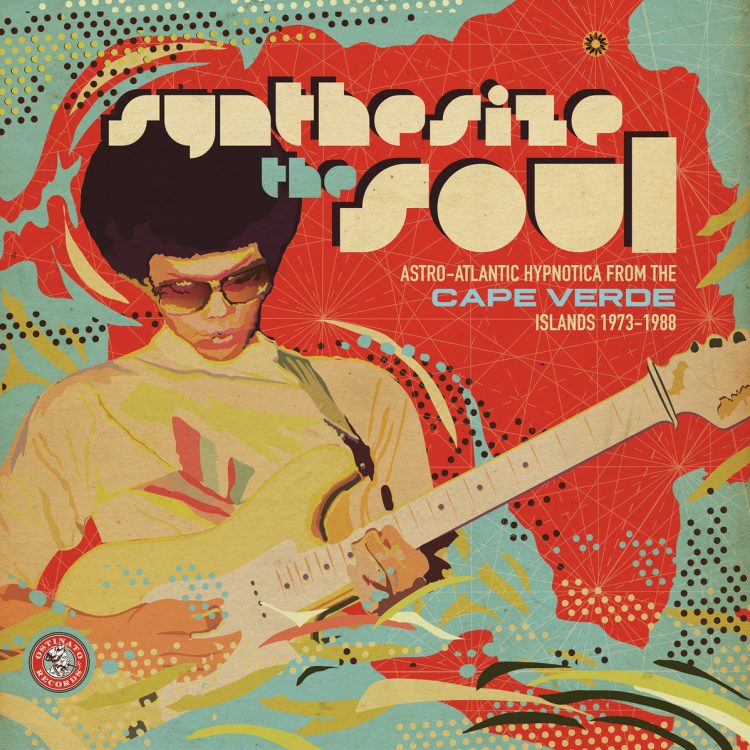 Various Artists "Synthesize the Soul: Astro​-​Atlantic Hypnotica from the Cape Verde Islands" (1973​-​1988, Ostinato Records)
via Ostinato Records: "In Cape Verde, we had no access to electronic instruments," said Tchiss Lopes, a Cape Verdean singer based in Rome.
"In Europe, we had access, but we had to adapt. Audiences expected electronic sounds, but we still stayed true to our sound. At first, the music was just to cater to Cape Verdean immigrants, but soon, people of Napoli especially started feeling it, then Rome". In the 1980s, that feeling transpired across Lisbon, Paris, Rotterdam, and Boston, as one the largest waves of migration from a single country, propelled by political instability and economic uncertainty, sent thousands of Cape Verdeans to the West's cities.
Through 18 diverse tracks, this compilation reveals how immigration from the Cape Verde Islands to Europe and the United States gave us an alternate history of the electronic music that dominated hearts and minds across the world in the late 1990s. But the story doesn't start in a major Western cultural hub, rather in the small cluster of islands 400 miles off the Senegalese coast, and offers an unparalleled insight into the long-term cultural splendour catalyzed by migration. Movement and mobility are intrinsic aspirations of the human condition. What we've come to know as immigration is as old as civilization. Yet today we measure immigration through a series of cold data. Immigrants are either condemned as disposable threats or celebrated as entrepreneurial treasures, rarely occupying a space in between.
Seldom do we peer back into the past to examine the tangible and timeless creations born from the movement of peoples, overlooking cultural innovations arguably ahead of their time, precursors to consuming global trends. Cape Verde today is justifiably hailed as an African political success story, but things were different in the 1980s. A war of independence from Portugal was won in 1975, and Cape Verde suffered the familiar ills of a society born from colonialism and slavery struggling to integrate into a globalized world.
This detachment fostered a yearning to integrate, to connect in anyway possible. The new found homes in the multiculti metropoles of Europe offered little respite. Cape Verdean immigrants were deemed "hot blooded," and perceived as "dropouts" and "juvenile delinquents."
The ready availability of electronic instruments, a doorway to a long denied 'modernity' and an anchor in their adopted homes, was seductive. "Cape Verdeans were celebrating their independence and with that the dancing became even more important," said Val Xalino, an unsung pioneer in the development of his country's electronic sound, based in Gothenburg, Sweden. "People wanted to hear something different. They wanted the synthesizer!"
Emigre musicians began traveling to and from Europe and their home islands, their luggage containing stock of synthesizers and MIDI instruments. Travel to the countryside to learn the rhythms of rural farmers became common. The melodies of the charmingly off-tune, often damaged accordions were transplanted onto synthesizers.
A cultural supply chain was established. Largely detached from global capitalism, music perhaps was, and in many ways still is, Cape Verde's most effective gateway to synthesize with the world; immigration the engine and lifeblood.
The hearts and minds of a musically-inclined people were captured. One mercurial youngster, Paulino Vieira, arguably Cape Verde's most important musician, the real mastermind behind the islands' melodic majesty, was especially drawn to keyboard instruments, having honed his skills at a Catholic seminary. He arranged or contributed to half the songs in this release.
Vieira was an integral member of Cesaria Evora's backing band, and while her cavaquinho-driven traditional songs registered Cape Verde as a cultural force worldwide, an electronic movement burgeoned just beneath the surface.
It soon found its headquarters in Lisbon, where Vieira had emigrated at age 18 to lead a reworked Voz de Cabo Verde, the commanding, enigmatic ensemble that enticed Cape Verdean musicians from around the diaspora to collaborate.
"Paulino was the most visionary," said Elisio Gomes, a Paris-based singer who collaborated with Vieira often. "He always had this gift to be 10 years ahead of his time. That's why our music sounds like it was produced today."
Largely overlooked outside the Lusophone realm, Cape Verde's Astro-Atlantic gumbo of instrumentation and rhythm offers a timely lesson of migration's power to produce cultural innovations ahead of its time. This unknown, ultra-progressive sound could not have been perfected without the induction of Cape Verde's artistic human capital into the West.
As we watch with heavy hearts the tragic crisis unfolding across the Mediterranean, as people fleeing similar circumstances strive to settle in Europe, a measured hint of patience will ultimately justify their vast inclusion. There are poets, writers, artists, thinkers, and, of course, musicians, raised in an age of technology, that are making the treacherous journey by boat, or by land on foot, from Syria, Eritrea, Libya, Iraq, and elsewhere. Paulino Vieira's heir, and lush cultural innovation bound to bear the same fruit, lie among them.
Released February 24, 2017 on Ostinato Records.
Purchase Album