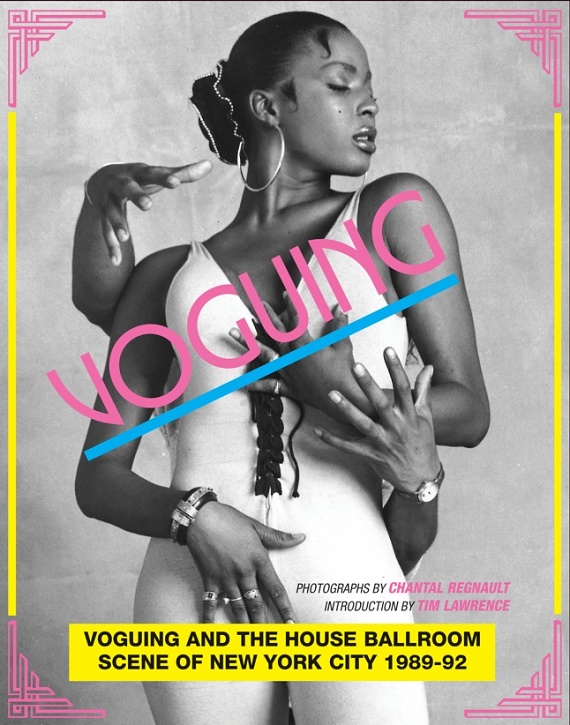 Soul Jazz Records' deluxe 200 page deluxe 24x30cm flexibound book, Voguing and the House Ballroom Scene of New York City 1989-92, features hundreds of stunning photographs from the hidden world of New York's house ballroom scene out of which came voguing, the dance made famous by Madonna.
Photographer Chantal Regnault lived in New York between 1989-92, photographing the scene at its height – the dancers Willi Ninja, Jose and Luis Xtravaganza (who all worked with Madonna) – as well as the legendary 'mothers' of the gay and transgender world – Avis Pendavis, Peppa LaBeija, Carmen Xtravaganza, Dorian Corey, Paris Dupree and more.
Introductory essay is by Tim Lawrence, author of two seminal music books: 'Love Saves the Day: A History of American dance music culture, 1970-79' and 'Hold on to your Dreams: Arthur Russell and the Downtown Music Scene, 1973-92'.
To coincide with the book, Soul Jazz Records will be releasing a 2CD/LP album in January 2012, entitled 'Voguing and the House Ballroom Scene of New York City 1989 -92' featuring Masters at Work, MFSB, Junior Vasquez, Diana Ross, Armand Van Helden, Loose Joints, First Choice and many more.
MAW - The HA Dance
Voguing came out of the extraordinary house ballroom scene that emerged in Harlem, New York in the 1980s where men competed against one another for their dancing skills, the realness of their drag and their ability to walk on a catwalk runway like a model.
Voguing erupted into the mainstream in 1990 when Madonna's song Vogue became number one in over 30 countries. The year before Malcolm McClaren first brought voguing into the mainstream with his song Deep in Vogue featuring dancer Willi Ninja. In 1990 Jennie Livingstone's film Paris is Burning, documented the house ballroom scene in it's ascendant, the film a runaway success grossing over $4,000,000.
Inner City - Moment of My Life
As voguing entered into the mainstream the house ballrooms of Harlem came downtown mixing with the downtown fashion crowd of Manhattan, before the onslaught of the AIDS epidemic ravaged the ballroom community.
These wild years of voguing and the house ballroom scene are vividly captured at its height in hundreds of amazing, previously unpublished photographs. A visual riot of fashion, gender, polysexuality and subversive style, Voguing and the House Ballroom Scene of New York 1989-92 is also a fascinating document on sexuality and race.
Photographer Chantal Regnault was born in France. She left Paris after the 1968 uprisings to New York, where she lived for the next 15 years. At the end of the 1980s she became immersed in the house ballroom and voguing scene.