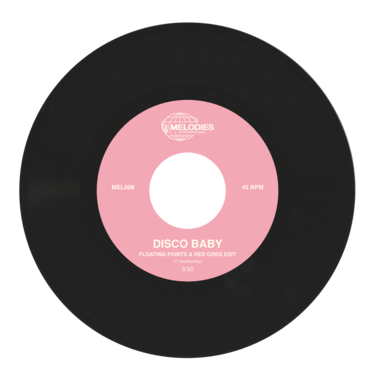 Y. Gershovsky "Disco Baby – Floating Points & Red Greg Edit" (1979, Melodies International)
via Melodies: A few years ago, Melodies family members Floating Points and DJ Red Greg got their hands on a couple of original 70s obscurities.
While these standout records shone brightly in their own right, the two DJs saw the potential to create their own edits behind the scenes, finely attuning the original versions to modern-day dance floor standards. Of these new recordings, they cut only five copies for themselves and a few DJ friends of theirs.
Today, Melodies International is very proud to bring you MEL006. Fully licensed, lovingly mastered to the highest possible standards and carefully edited to dial up that dance floor enjoyment, this 'You're A Melody' classics wasn't originally meant to get an official release. But due to popular request, it is now available to play and share in very special moments at parties around the world.
MEL006 arrives as a 7-inch, with the original version and the edit on the flip. First released in 1979 as a three-minute up-tempo library recording, "Disco Baby", one of 10 tracks off a record available to license for film, radio, television and other media, held some hidden magic that would only get uncovered almost four decades later. Informed by years of combined dance floor experience, Floating Points and Red Greg have slightly tweaked the original material, realizing that played in the right context, it can become a true disco anthem.
"Disco Baby – Floating Points & Red Greg Edit" releases July 28, 2017 on Melodies International