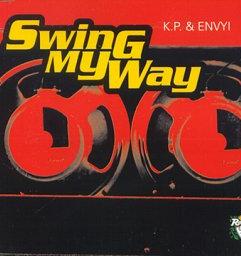 Forgotten Treasure: K.P & Envyi "Shorty Swing My Way" (1998)
What's going on here? Is this a one-hit wonder? I think so! Just try looking this duo up on Discogs. Ghost town! Envyi, "now 'known' as Sioux Lane" features in a random song or two from the Eastwest Records America Label and has a few amateur-looking youtube submissions http://www.youtube.com/watch?v=KEp5yuAlI2A while Kia Philips is just plain untraceable. Guess it's better to quit the game while you're hot.
At any rate, I'm glad they left us with this forgotten treasure from 1998. Sucker clocks in at about 140bpm or at you can half-time it at 70bpm. Sure, "Swing My Way" would fit well with any Rn'B or Hip-Hop set, but why not be adventurous and throw her in with some juke?
Here's another plan. Next time you're feeling romantic with your significant other, follow these basic steps:
1) Dim the lights.
2) Give them a small reassuring smile.
3) Put this song on at a "gentle level" and lock eyes.
4) Without losing focus, walk over to your partner gracefully.
5) Slowly raise your hand as if you were going to touch their chin from underneath.
6) Gradually raise the volume with a remote control behind your back.
7) When the beat drops at 0:14, break into your craziest/silliest/most ridiculous dance routine (I suggest something that involves jumping and SWINGING your arms around).
Now you're looking good shawty!
K.P & Envyi - Shorty Swing My Way