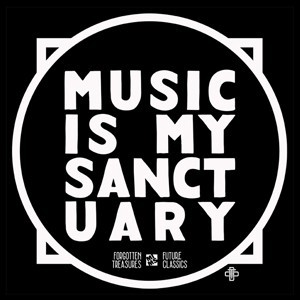 Music Is My Sanctuary – Show #40
Wow. Ok, this was a really hard one to put together. The idea was that since 40 is a nice round number I would pick one song from each show i've done over the 3+ years since I started.
A really tough process because I pretty much love every track i've ever played on this show. For those who are new to MIMS feel free to click on the tracks to check out the 39 other shows you might have missed!
Tracklist
01. EXCLUSIVE NEW JOINT! Gary Bartz – Music Is My Sanctuary (DELA Remix)
02. Fashawn – Samsonite Man (from #29)
03. Kero One – In all the wrong places (from #05)
04. Detroit Experiment – Highest (from #27)
05. Onra – Long Distance (from #35)
06. Eero Johanes – Leisi Ellie (from #31)
07. Flako – Put Chur Hands Up (from #37)
08. Bullion – Get Familiar (from #06)
09. Kenlo – Moonglass (from #33)
10. Jay Electronica – Exhibit A (from #020)
11. Guilty Simpson – Man's World (from #03)
12. Bonobo – Ketto (from #Old Gold Special)
13. Flying Lotus – Disco Balls (from #28)
14. Reel to Real – Love me like this (Floating Points Remix) (from #22)
15. Mark E – R&B Drunkie (from #07)
16. SiriusMo – All the girls (from #15)
17. Swell Sessions – Gonky Girls (from #18)
18. Jumbonics (Diesler Remix) (from #14)
19. Kutiman – Music Rules My Life (Dj Day Remix) (from #02)
20. Bim Marx – Stronger (from #23)
21. Moodymann – Ol' Dirty Vinyl (from #Lookout)
22. Stateless – Bloodstream (Henrik Schwarz Remix) (from #09)
23. Pearson Sound aka Ramadanman – WAD (from #30)
24. Uproot Andy – El Botellon (from #39)
25. Maddslinky ft. Omar – Special (from #38)
26. Mount Kimbie – Carbonated (from #36)
27. Jamie Lidell – Another Day (Rustie Remix) (from #21)
28. G Corp – No Burial (from #26)
29. Plastician ft. Skepta – Intensive Snare (from #16)
30. 2000F – You Don't Know What Love is (from #UKForever)
31. Jose James – Equinox (Sbtrkt Remix) (from #34)
32. Animal Collective – Summertime clothes (Dam-Funk Remix) (from #25)
33. Vanessa De Mata – Boa Sorte (from #17)
34. Zola – Ehlala Zola (from #10)
35. Sharon Jones – How Long? (Ticklah Remix) (from #19)
36. Lucina Slim – All this time (from #22)
37. Radiodread – Karma Police (Cover) (from #04)
38. Eddie – Pode de chamar  (from #01)
39. Digable Planets – Where i'm from (from #12)
40. Cody Chesnutt – Serve this Royalty (from #08)
Download Link