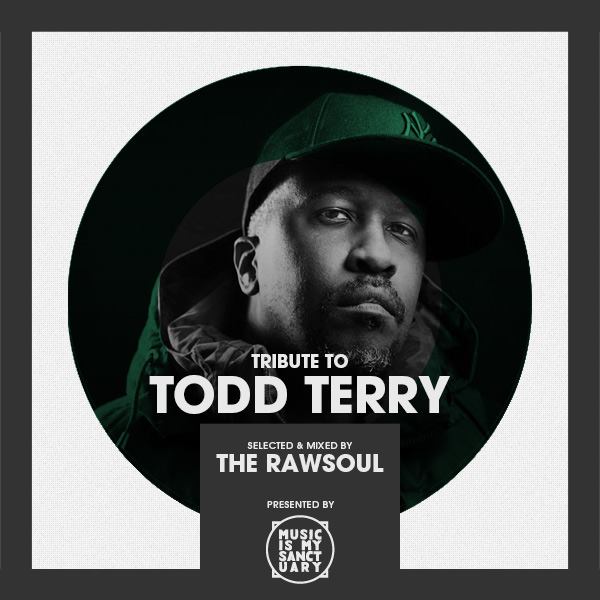 Tribute To Todd Terry Pt. 1″ (The Raw House Supreme Show #209) – Mixed by The RawSoul
A Tribute To Todd Terry, Part 1.
Focusing on the early works of the legendary producer, this mix features his unique sound which perfectly combines the Hip Hop aesthetics of sampling and slamming House grooves. Straight up classic productions, underground anthems, essential remixes, and lost tracks in the mix!
TRACKLIST
1.The Todd Terry Project – Weekend
2.Royal House – Can You Party
3.Royal House – Party People
4.The Todd Terry Project – Just Wanna Dance
5.The Todd Terry Project – Bango (To The Batmobile)
6.Black Riot – A Day In The Life
7.Hardhouse – Voices In My House
8.Tech Nine – Slam Jam
9.The Todd Terry Project – Back To The Beat
10.Hardhouse – Check This Out
11.Sax – Give Yourself To Me
12.Margaret Conway – Sure Shot
13.Royal House – I'll Do Anything
14.Limelife – Cause You're Right On Time
15.Static – Touch Me Baby
16.English Friday – Riots In Brixton
17.Todd Terry Presents Sax – This Will Be Mine
18.Todd Terry Presents Sound Design – Razen Theme
19.Freestyle Orchestra ft D'Borah – Keep On Pumpin' It Up
20.Pamela Fernandez – Kickin' In The Beat
21.Gypsymen ft Margaret Conway – Stoppin' Us
22.Tara Kemp – Piece Of My Heart
23.CLS – Can You Feel It
24.Bizarre Inc. ft Angie Brown – I'm Gonna Get You
25.The Darryl James / David Anthony Project – You Make Me Happy
26.The Cover Girls – Wishing On A Star
27.Todd Terry Unreleased Project – Fly Away
28.Gypsymen – Hear The Music
29.House Of Gypsies – Samba
30.Swing Kids – Good Feelin'
31.Todd Terry Presents Sax – Special Groove
32.Todd Terry Presents The Countdown – No Way
33.Shawn Christopher – Don't Lose The Magic
34.P.M. Dawn – A Watcher's Point Of View
35.Todd Terry – Put Your Hands Together
36.Martha Wash – Carry On
37.Todd Terry – When You Hold Me
38.Todd Terry Presents Sound Design – Searchin'
39.Candido – Jingo
40.Todd Terry – Love You More
41.Annie Lennox – Little Bird
42.D:Mob With Cathy Dennis – Why?
43.House Of Gypsies – I Like You
44.House Of Gypsies – Change Is What We Need
45.B.M.E. ft Leroy Burgess – Pray
46.Todd Terry – Desire – What I Want
DOWNLOAD LINK
Listen & Subscribe to The RAW HOUSE SUPREME Show on iTunes