Forgotten Treasure: Oliver Nelson "The Blues and the Abstract Truth" (1961)
Oliver Nelson is a legendary jazz arranger with a strong playing pedigree (he played tenox sax with Quincy Jones in the early 60s) that really came into his own on his timeless and most revered record "The Blues and the Abstract Truth". This is a very special record personally as it was the first "important" Jazz LP I purchased (from Phonopolis' old location on parc) and one that helped through extensive hours of thesis writing. But from a jazz history standpoint its importance and influence is undeniable.
I recently finished reading "The House that Trane Built : The History of Impulse Records by Ashley Kahn" which covers the whole story of the jazz Label, and it gave me a new appreciation for how this LP came about. First of all the cover almost says everything you need to know. Any self-respecting jazz head or record nerd is swayed by the iconic photography, trademark orange spine and gorgeaous gatefold. (Impulse invested heavily in their artistic dept in order to stand out from the competition). The names featured on the cover read like a patheon of jazz performers: Hubbard, Dolphy, Chambers, Haynes and Evans! However the record and it's story all revolves around Nelson and what Impulse allowed him to do. Nelson had established hiself as a sessioned bandleader recoding six albums between 1959 and 1961 for Prestige. However, Impulse eager to represent its motto "The New Sound in Jazz" took a chance and signed Nelson to a one off deal allowing full creative freedom. The album is an exploration of the mood and structure of the blues, and can be considered as a continuation of the harmonic trend instigated by Miles Davis' seminal Kind of Blue (Evans and Chambers played on both albums).
Oliver Nelson - Stolen Moments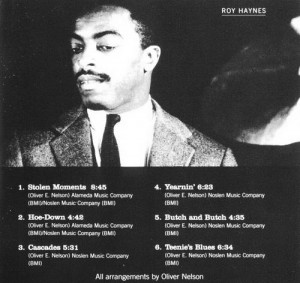 The opening piece "Stolen Moments'' is my favorite cut and is the one that illustrates the magic that was generated with this one time group. Coincidentaly, it became crossover radio hit and later a go to standard for jazz groups. Nelson took on the challenge of composing all the songs and according to his liner notes chose to use the classic 12 bar blues form a move that allowed him to expose the strength of all the players. Giants in their own terms, it is very interesting to see how the artists progressed from the launching pad that Nelson set up for them. Hubbard was lining up to be the "next Miles" and his soft tone but strong interplay immediately shines on his opening solo (Impulse would go on to release Hubbard led albums as he became their star trumpeter). It's a much more tame Dolphy that we have a chance to appreciate on the flute, not that Impulse could be considered a conservative label in any sense (John Coltrane, their top seller was allowed to sufficiently spread his wings for close to a decade) but the restraint he show fits in perfectly with the recurring melody that Nelson penned. Evans, Haynes and Chambers round out the rythm section and hold their own, melding themsleves in the harmony and sustaining the momentum. The result is a very special song that can fit any mood and is a perfect "gateway drung" into more complex jazz sounds.
As one of the first Impulse releases it not only helped the label gain traction as a force to be reconned with in the record industry and with jazz afficianados alike, but its open environment and care for the artist attracted many talented cats to its roster. It sold so well that it encouraged the label heads at ABC to continue investing in Impulse and gave the creative team breathing room to continue experimenting freely. Oliver Nelson went on to write scores for Hollywood and all of the players eventually lead their own groups. But for a short instant (the record was recorded in a week), Rudy Van Gelder's incredible engineer work encapsulated a small "stolen moment" in jazz history where all the stars were aligned and incredible albums like this were given the space to shine brightly for all to enjoy.
+ Bonus Live Action in Berlin 1970