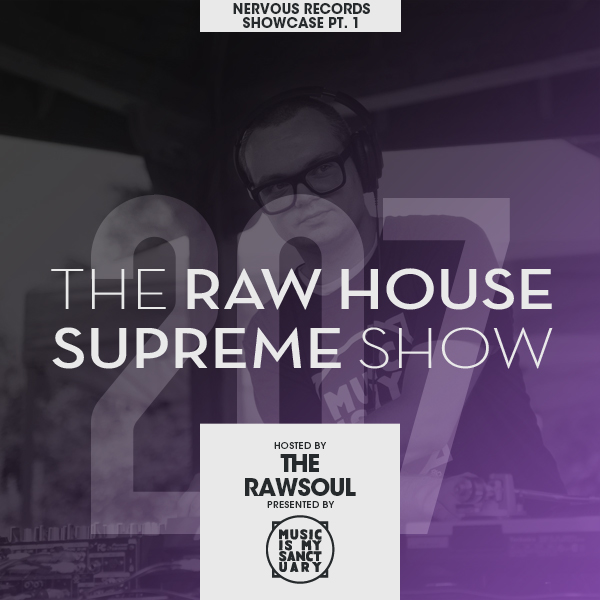 The RAW HOUSE SUPREME Show – #207 "Nervous Records Showcase Pt. 1" (Hosted by The RawSoul)
Another crucial and essential label, Nervous Records was very influential to the development of the New York underground House movement.
The label was founded in 1990 by Sam Weiss (of the legendary Disco label Sam Records) and his son, Mike Weiss. Their extremely catchy logo backed up by their raw and slamming releases made the label a favourite of the DJs and House heads within only a few releases out.
As the years went by, Mike Weiss created an impressive catalogue of music embracing House, Techno, Hip Hop, and Disco amongst others. Many legendary and upcoming producers were releasing tracks on the imprint building a varied but cohesive identity that was very representative of the excitement this music was generating at that time.
This mix focuses on the early stages of the label with some of their finest deep late night grooves, club classics and garage stormers! Essential cuts from Wayne Gardiner, Mood II Swing, Loni Clark, Masters At Work, Frankie Feliciano, Brothers Of Peace, Roger S., DJ Pierre, Armand Van Helden, Kim English, Dat Project, The Burrell Brothers, John Robinson and many more! Play loud!!!
Listen to The Nervous Records Showcase Part 2
TRACKLIST
1.The Swing Kids – Good Feelin'
2.Kim English – Nite Life
3.Dat Project III – Strings
4.Trinidad – Philly The Blunt
5.Goodfellas – Newark Swing
6.Sandy B – Feel Like Singin'
7.Rhythm Factory – Jam Is Pumpin'
8.Loni Clark – U
9.Classic Man – Love
10.Niceguy Soulman – Feel It
11.The Groove Asylum – Tipsy
12.Shades Of Sound – Happy Jazz
13.Classic Man – 5th Street Orchestration
14.Jazzie Joint – Give A Little Love
15.Halona – Can't Give Up On Love
16.Mood Swing – 225th Street
17.Classic Man – Mellow
18.Strait 2 Dat – It's 3:00
19.House Rated – Let The Music Motivate
20.The D.A.T. Project II – Let The Rhythm Move You
21.2 Da Rhythm – A Special Groove
22.Nu Yorican Soul – The Nervous Track
23.DJ Joe T. Vannelli ft Csilla – Play With The Voices
24.Deep Creed '94 – Can U Feel It
25.Shock Wave – The Mental Track
26.Akema – No Regrets
27.Jazzie Joint – Real Happy
28.Track And Feel Event – Space And Time (Clear My Mind)
29.Classic Man '93 – Rapid Winds
30.Richard Rogers – All I Want
31.People – Apprehension
DOWNLOAD LINK
Listen & Subscribe to The RAW HOUSE SUPREME on iTunes