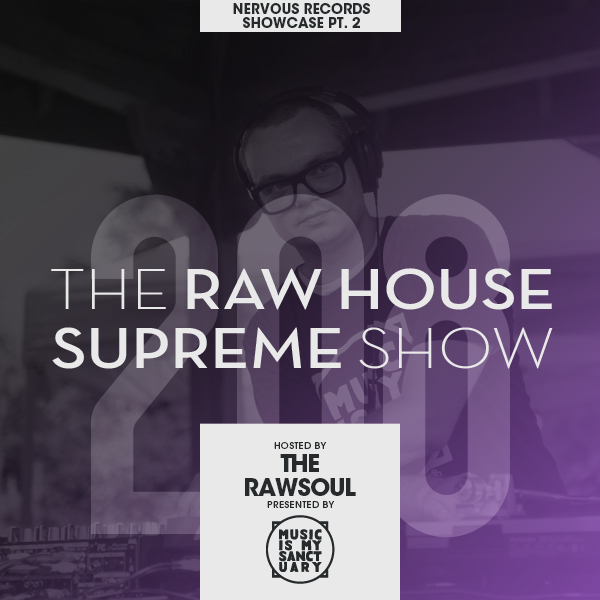 The RAW HOUSE SUPREME Show – #208 "Nervous Records Showcase Pt. 2" (Hosted by The RawSoul)
The "Nervous Records Showcase" Part 2.
Another crucial and essential label, Nervous Records was very influential to the development of the New York underground House movement. It was founded in 1990 by Sam Weiss (of the legendary disco label Sam Records) and his son, Mike Weiss. Their extremely catchy logo and their raw and slamming releases made the label a favourite among the DJs and House heads within only a few releases out.
As the years went by, Mike Weiss created an impressive catalogue of music embracing House, Techno, Hip Hop, and Disco amongst others. Many legendary and upcoming producers were releasing tracks on the imprint building a varied but cohesive identity that was very representative of the excitement this music was generating at that time.
More classic and lost tracks on this second part as we go deeper into the label's vast variety of sounds. Essential cuts from Wayne Gardiner, Mood II Swing, Loni Clark, Burrell, Todd Edwards, Frankie Feliciano, Danny Tenaglia, Frankie Knuckles, Larry Levan, The D.A.T. Project, Kerri Chandler, Armand Van Helden, Kim English, Byron Stingily and so much more. There's a also a Hip Hop interlude in the mix showcasing some classic jams that became crucial for the label. Feel the vibe!!!
Listen to The Nervous Records Showcase Part 1
TRACKLIST
1.Classic Man '93 – No More Mind Games
2.The Club Kidds – You Can Take Me
3.Deep Creed – The Anthem
4.Loni Clark – Love's Got Me (On A Trip So High)
5.Willie Ninja – Hot
6.The Element – It Takes The Physical
7.Worlds Apart – Love, Sex, For Money
8.Track And Feel Events – Bip Bop (Get To It)
9.Loni Clark – Rushing
10.DJ Joe T. Vannelli – Voices In Harmony
11.Kim English – I Know A Place
12.The Messenger – End This Hate
13.Destroyer – Love Like This
14.Look Out – Let Your Body Flow
15.King Street Crew – Gonna Be Alright
16.Byron Stingily – Back To Paradise
17.East Village People ft David Ian – Love's Gonna Get You
18.Akema – So In Love
19.M.A.D.A. – Feel Like Jumpin'
20.Classic Man '93 – Keepin' On
21.Blue Moon Orchestra – Will U Luv Me
22.The D.A.T. Project – C'mon Sweat
23.MCW Presents Step – One Leg On The Ceiling… Nightstand
24.Classic Man – Here's The Sample
25.Byron Stingily – In My Mind
26.Strait 2 Dat – Electric Native
27.Club Artists United – Sweet Chariot
28.In Sync – Everybody's Dancing
29.Kim English – Nite Life
30.MCW's System – Spank It
31.Track Masters – Come On, Do Anything
32.The D.A.T. Project II – Tech Vibe
33.Veda Simpson – Oohhh Baby
34.Umosia – Love Don't Let Me Down
35.Kerri Chandler – Rain
36.Nuyorican Soul – Mind Fluid
37.Black Moon – Who Got Da Props
38.Mad Lion – Take It Easy
39.Smif-N-Wessum – Wrekonize
40.Funkmaster Flex – Sad And Blue
41.First World – Ordinary Folk
42.House Dawgs – Praise Him
43.Gigolo Supreme – After The Storm
44.Kim English – MIssing You
45.Sample Choir – The Praise (God In His Hand)
46.The Bridge – Something Special
47.PJ – Can Ya Tell Me
48.Choice Vibe – Somebody For Me
49.In Sync – Let Me See
50.Rek Sh*t Rebulz – Summer Realness
DOWNLOAD LINK
Listen & Subscribe to The RAW HOUSE SUPREME on iTunes