Top Ten of OSM Season 2015-16 (Picks by The Classicaliszt)
You've always wanted to go and see a classical recital "one day". Everytime you walk by the gorgeous Maison Symphonique at the Place des Arts you marvel at the architecture and wonder what the acoustics inside the amazing concert hall you've seen on TV actually sound like.
Well wonder no more and just go ahead and take the plunge. With incredible pricing for patrons under 35 years you get some of the best seats in the house (right behind the orchestra). The OSM experience is unparalleled and I will share my recommendations for this season, so you can get your tickets early. A relaxing or romantic evening is always on hand with the Symphonic Orchestra and if its your first time just go in with open ears and an open mind and you will not be disappointed.
This year's season showcases organ and choir works as well as the usual suspects of orchestral and piano/violin recitals, however the OSM has stepped up its offer of visual projections accompanied by music and the children friendly concerts are especially terrific. Here are the highlights and some sureshot recommendations for this season, consider it a top 10 of the 2015-16 season
To me the violin concerto is the most spectacular introduction to classical music. If you have only one show to see, this is the one. Emotion, virtuosity and drama are sure to be on the menu when one of the world's elite violinist takes the stage. Ray Chen is a major label recording artist and has won many prestigious international competitions. However, it is his undeniable stage presence (exemplified in the video below under Maestro Kent Nagano) that will surely turn this recital into a captivating affair. More star power and a unique listening experience is added to this can't miss event by having Polish composer Krzysztof Penderecki conduct his own Adagio from Symphony 3.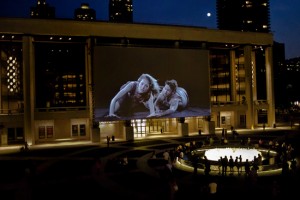 Bach's music for unaccompanied violin is both timeless and compelling. True violin mastery is at work and experiencing this performance will be immensely enhanced with the visual experience in this Music & Images series, including giant screen projections from Michalek and intense stage lighting. Imagery, both broadcast and conveyed through the piece, are sure to provide an unforgettable and immersive experience and what better way to hear the usually strict partitas/sonatas.
The Grammy award winning Shaham is in residence at the OSM this year and will also be performing my personal favorite, the Mendelssohn Violin concerto, this season.
The title says it all, this is the best one for date night. This concerto is the perfect mix of lush textures and almost cinematic cadenzas to keep your thrilled while staying wrapped in a comforting sonic atmosphere. An excellent introduction to classical repertoire, the program will end with the essential Franck Symphony in D minor all interpreted by the young and promising Vilde Frang. Here is the concerto interpreted by Ray Chen with Kent Nagano conducting to put you in the mood.
Not much needs to be said about this most majestic of pieces. Bold and powerful, get strapped in for the ride and get your tickets while you still can. You will also get a chance to sample another British great with composer Elgar's magnificent cello concerto interpreted by Jan Volger.
One of the greatest silent films of all-time is celebrating its 100th anniversary. For the occasion, it will be projected with Charlie Chaplin expert conductor Timothy Brock at the helm to direct the soundtrack. This is one is fun for the whole family or the movie geek in you.
Everytime I step into Wilfrid-Pelletier I marvel at the Pierre-Béique organ. Stunning in both conception and sound, this incredible instrument will host legendary French performer/composer Jean Guillou, who will bring his arrangement of Moussorgksy's Pictures at an Exhibition to the forefront, as well as transcriptions of Liszt and his own compositions. Discover the organ in all its unparalleled intensity through this tour de force performance.
This year the OSM honor Tchaikovsky by offering 3 different recital programs (buy all 3 and get 20% off) including the famous 1812 Ouverture and Suite from Sleeping Beauty along with the 4th and 6th (Pathétique) Symphonies. Each program will feature a different guest, cellist Mischa Mainsky will take on the Variation on Rococo Theme, soprano Ekaterina Lekhina will interpret Romeo & Juliet as well as the Snow Maiden (including Rimsky-Korsakov's take) and pianist Boris Beresovsky will play the 2nd piano concerto. A russian affair whose program is as rich as the composer's output.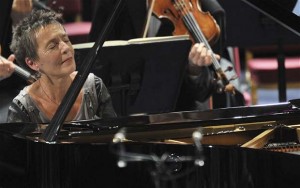 Maria João Pires has been heralded by critics for years and many of her vinyl recordings are considered amongst the best interpretations. The famous pianist is an OSM artist in residence and she will be performing the regal Beethoven Piano Concerto no.3 (with Nagano conducting the gorgeous Bruckner Romantic Symphony) but I am most excited for the performance of Schubert Music for Four Hands alongside Pavel Kolesnikov. Don't miss a chance to catch Pires in North America.
This recital is a chance to discover the multiple aspects of French compositions. Symphonie Fantastique is Berlioz's flagship opus and in many ways it established France as 'different'. Ravel continued the tradition of uniqueness and Dutilleux's cello concerto will surely be a joy to witness from the animation it stirs into an orchestra. One of the dates is February 14th, just saying!
You may have been wondering, where is Maestro Kent Nagano in all this list? Well I kept the best for last. Although I was tempted to write about the Debussy Pelleas & Melisande season opener or his take on Ravel's Bolero, I chose the Rites of Spring program because of it's almost overwhelming nature and because, to me, the Stravinsky piece, is a definitive marker of a conductor's identity and style. If you throw in Debussy's Jeux and the dazzling Prokofiev Piano Concerto no.3, you will surely get Nagano doing what he does best.
Other notables
I would also recommend Mahler's Titan Symphony paired with the exceptional OSM lead violinist Andrew Wan performing Prokofiev's Violin Concerto 2. Around Christmas time, Bach's Oratorio is a much better option than corny christmas carroling and I can't wait to take my children to see symphonic Babar.
More info: OSM.ca