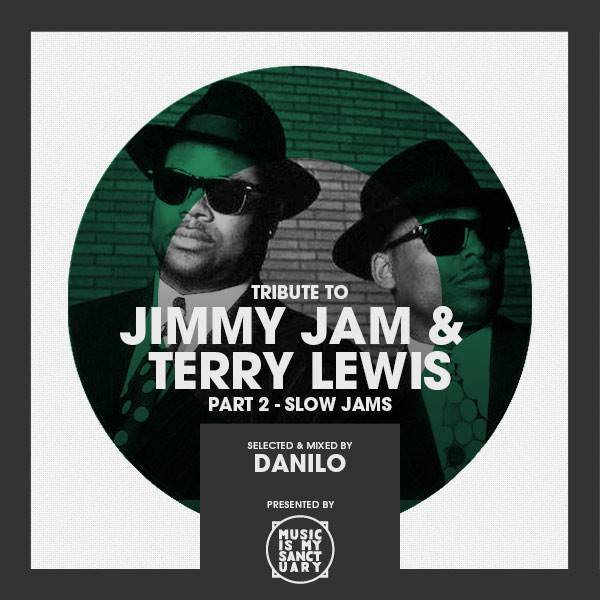 Tribute to JIMMY JAM & TERRY LEWIS – Selected & Mixed by Danilo (Part 2 – Slow Jams)
Danilo: "Jimmy Jam & Terry Lewis form part of the holy trinity of R&B producers that defined my musical tastes during my formative years.
The other two being L.A. Reid & Babyface (LaFace) and Teddy Riley. Of course there were plenty of other music makers out there that played (Prince, Quincy Jones, Kashif etc.) but it was the music of these three that I hunted more than most.
When the opportunity came up with Music Is My Sanctuary to put together a tribute mix honouring their music I lunged at it like an overexcited schoolboy! The only question was what do I put in the mix!? If you've heard any of my New Jack Era mixes on Mixcloud you'll know I have a penchant for extendeds and rare mixes. The problem is there's no way to include a catalogue of work that spans approximately 35 years and still give those gnarly mixes room to breathe. Its for this reason I've decided to make this mix a tribute to the Jam & Lewis work of the 80s…"
TRACKLIST
1. Janet Jackson – Let's Wait Awhile
2. New Edition – Boys To Men
3. Herb Alpert – Making Love In The Rain
4. Alexander O'Neal – When The Party's Over
5. Janet Jackson – Someday Is Tonight
6. Janet Jackson – Come Back To Me (I'm Beggin' You Mix)
7. The S.O.S. Band – Tell Me If You Still Care
8. The S.O.S. Band – Weekend Girl (12" Mix)
9. Janet Jackson – Funny How Time Flies (When You're Having Fun)
10. New Edition – Can You Stand The Rain
11. Alexander O'Neal – Sunshine
12. Force M.D.'s – Tender Love
13. Cherrelle – Home (Reprise)