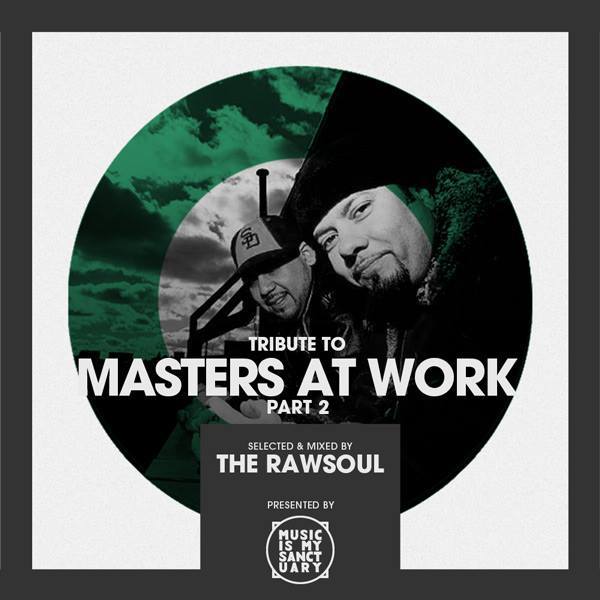 Tribute to Masters At Work (Pt. 2) – Mixed & Selected by The RawSoul
The RawSoul presents Part 2 of "The Masters At Work Showcase" for Episode 213 of The Raw House Supreme Show!
Masters At Work doesn't really need any introduction. "Little" Louie Vega and Kenny "Dope" Gonzalez became legendary almost instantly with their unique musical approach. The impact they made on House Music and dance music overall is undeniable and has rarely been matched. Their catalogue is rich and varied, from straight up club tracks to Latin Jazz. Constant and quality releases just kept coming on and on from 1991 until the early 2000s.
Again, this second showcase features some more early remixes and productions when they exploded on the scene between 1991 and 1993. Don't be surprised to hear a wide variety of artists in this mix. Major labels were still relying on the underground remixers to attract attention and Masters At Work simply became the standard at that time.
Listen to Part 1 / Listen to Part 3
TRACKLIST
1.The Neville Brothers – Fly Like An Eagle
2.Urbanized ft Silvano – Helpless (I Don't Know What To Do Without You)
3.Double Exposure – Ten Percent
4.Terence Trent D'Arby – Do You Love Me Like You Say?
5.Simply Red – Thrill Me
6.Ce Ce Peniston – Crazy Love
7.Masters At Work – Hot For You
8.Willie Ninja – Hot
9.Masters At Work ft India – When You Touch Me
10.Alison Limerick – Gettin' It Right
11.Vanessa Williams – Work To Do
12.Tito Puente – Ran Kan Kan
13.Chic – Chic Mystique
14.Masters At Work ft Jocelyn Brown – Can't Stop The Rhythm
15.Keith Thompson – Rhythm Of Life
16.Desiya – Comin' On Strong
17.The Cover Girls – Wishing On A Star
18.Martha Wash – Carry On
19.Meli'sa Morgan – Still In Love With You
20.MK ft Alana – Love Changes
21.Lonnie Gordon – Bad Mood
22.Trey Lorenz – Photographs Of Mary
23.MAW & Company ft Xaviera Gold – Gonna Get Back To You
24.Jack And Jill – You Make Me Feel (Mighty Fierce)
25.Uncanny Alliance – I Got My Education
26.Björk – Violently Happy
27.Lisa Stansfield – Time To Make You Mine
28.Titiyo – Tell Me (I'm Not Dreaming)
29.Ten City – Fantasy
30.Kathy Brown – Can't Play Around
31.Nu Yorican Soul – The Nervous Track
32.Freedom Williams – Groove Your Mind
33.DJ Joe T. Vannelli ft Csilla – Play With The Voices
34.Soul II Soul – Back To Life
DOWNLOAD LINK
Listen & Subscribe on iTunes