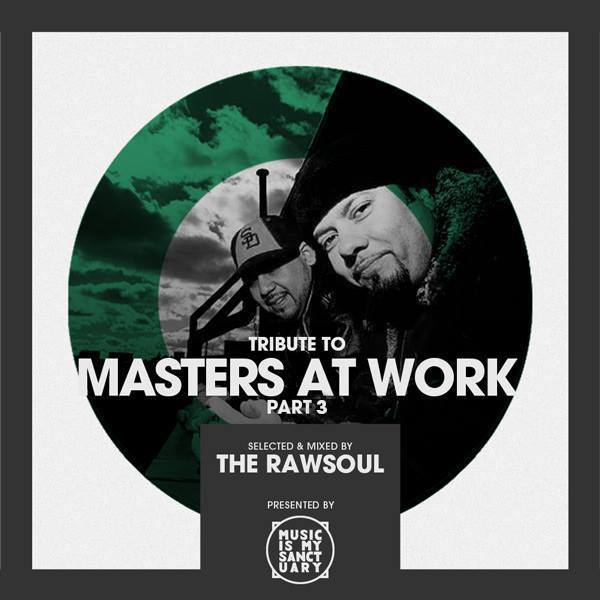 Tribute to Masters At Work (Pt. 3) – Mixed & Selected by The RawSoul
The RawSoul presents Part 3 of "The Masters At Work Showcase" for Episode 214 of The Raw House Supreme Show!
Masters At Work doesn't really need any introduction. The NYC House Music duo comprised of "Little" Louie Vega and Kenny "Dope" Gonzalez became legendary almost instantly with their unique musical approach. The impact they made on House Music and dance music overall is undeniable and has rarely been matched. Their catalogue is rich and varied, from straight up club tracks to Latin Jazz. Constant and quality releases just kept coming from 1991 until the early 2000s.
This third showcase explores remixes and productions mostly released between 1994 and 1997. At that time they took their production skills to a whole other level bringing a strong musical sensibility and some absolutely different rhythm programming. At lot of these records became essential to the evolution of the House music sounds and have influenced and changed the directions of many other producers. Just listen and bounce!
Listen to Part 1  / Listen to Part 2
TRACKLIST
1. Michael Jackson – Rock With You
2. Masters At Work – All That
3. The Pasadenas – Round & Round
4. 200 Sheep – Why?
5. Urban Species – Listen
6. The Funky People – Funky People
7. Mondo Grosso – Souffles H
8. Shanice – I Like
9. Kim English – Nite Life
10. 280 West ft Diamond Temple – Love Masquerade
11. Masters At Work Presents People Underground – My Love
12. Deee-Lite – Bittersweet Loving
13. Ten City – Love In A Day
14. Kenlou – Gimme Groove
15. Tri – We Got The Love
16. Groove Collective – Whatchugot
17. Towa Tei – Luv Connection
18. Nuyorican Soul – Mind Fluid
19. SNK – True Garage Spirits
20. Nuyorican Soul ft Jocelyn Brown – It's Alright, I Feel It!
21. Jazmina – Good Time
22. Jamiroquai – Emergency On Planet Earth
23. The Bucketheads – I Wanna Know
24. Nu Colours – Desire
25. The Brand New Heavies – Close To You
26. Drizabone – Real Love
27. Dina Carroll – Run To You
28. Everything But The Girl – Driving
29. D'Influence – Hypnotize
30. Kenlou III – What A Sensation
31. Incognito – Everyday
32. Kenlou – The Bounce
33. Repercussions – Promise Me Nothing
DOWNLOAD LINK
Listen & Subscribe on iTunes