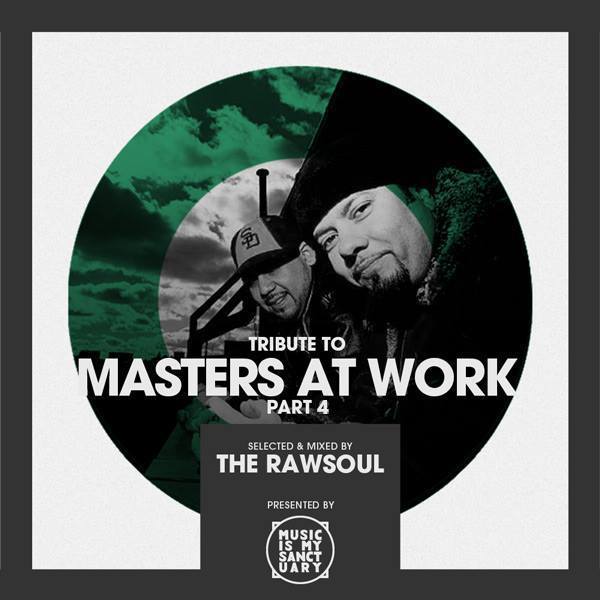 Tribute to Masters At Work (Pt. 4) – Mixed & Selected by The RawSoul
Dive in to Part 4 of "The Masters At Work Showcase" for Episode 215 of The Raw House Supreme Show!
Masters At Work doesn't really need any introduction. The NYC House Music duo comprised of "Little" Louie Vega and Kenny "Dope" Gonzalez became legendary almost instantly with their unique musical approach. The impact they made on House Music and dance music overall is undeniable and has rarely been matched. Their catalogue is rich and varied, from straight up club tracks to Latin Jazz. Constant and quality releases just kept coming from 1991 until the early 2000s.
This fourth showcase explores remixes and productions mostly released between the mid and the late '90s. At that time, they took their production skills to a whole other level bringing a strong musical sensibility and some absolutely different rhythm programming. At lot of these records became essential to the evolution of House Music and have influenced and changed the directions of many other producers.
Listen to Part 1 / Listen to Part 2 / Listen to Part 3
TRACKLIST
1.Nuyorican Soul ft George Benson – You Can Do It (Baby)
2.Kenny Bobien – Rise Above The Storm
3.Jerald Daemyon – Summer Madness
4.Musiq Soulchild – Just Friends (Sunny)
5.Robyn – Good Thing
6.Monica – Inside
7.Daft Punk – Around The World
8.Incognito – Always There
9.Masters At Work ft Lisa Fisher – When You Are A Woman
10.The Braxtons – The Boss
11.Luther Vandross – Are You Using Me
12.MJ Cole – Tired Games
13.Black Magic – Let It Go
14.Charisse Arrington – Down With This
15.Incognito – Everyday
16.The Brand New Heavies – Sometimes
17.Grooverider – Rainbows Of Colour
18.Janet – Go Deep
19.Jody Watley – Off The Hook
20.Groovebox – Casio's Theme
21.Sinnamon – I Need You Now
22.MAW Electronic – Tranz
23.Kenny Lattimore – Days Like This
DOWNLOAD LINK
Listen & Subscribe on iTunes