"Studio One Story" – Documentary by Soul Jazz Records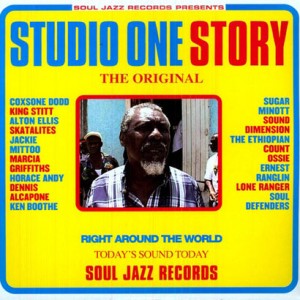 via SoulJazzRecords: Studio One Story is a documentary this is both a staggering slice of musical history and a definitive guide to Studio One, Jamaica's greatest ever record company, and its legendary founder, Clement 'Coxsone' Dodd. 'Studio One Story' was filmed in 2002, two years before the death of the legendary Clement 'Sir Coxsone' Dodd, a man famously reticent of being interviewed – until the making of this film.
Described by Chris Blackwell as the Motown of Jamaica, or 'The University of Reggae', Studio One is where the careers of literally hundreds of reggae artists began: Bob Marley and the Wailers, Alton Ellis, The Heptones, Ken Boothe, The Skatalites, Burning Spear and Sugar Minott, to name but a few! Studio One is the 'foundation' label of Jamaican Reggae and Clement 'Sir Coxsone' Dodd is seen by many as its father.
One and a half years in the making, Studio One Story is a truly unique documentary in which the late Clement Dodd gave unprecedented personal access to tell the previously untold story of how he and the many artists and musicians at Studio One literally shaped the rise of Reggae music from the 1950s onwards through to the late 1970s.
The 4 hour documentary (including over an hour of extras) was filmed on location in Kingston, Jamaica and features interviews with Horace Andy, Alton Ellis, Ken Boothe, Sugar Minott, Denis Alcapone, The Ethiopians, Sylvan Morris, Johnny Moore, Lone Ranger, King Stitt and many others. The DVD also includes rare footage of The Skatalites, Jackie Mittoo, Count Ossie, Marcia Griffiths and others.
Part 1