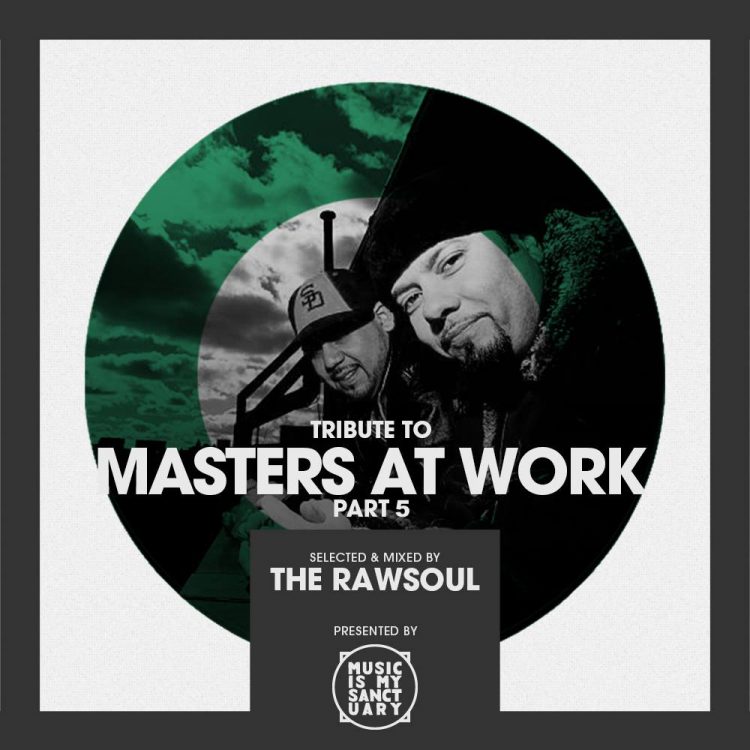 Tribute to Masters At Work (Pt. 5) – Mixed & Selected by The RawSoul
Part 5 of "The Masters At Work Showcase" for Episode 216 of The Raw House Supreme Show!
Masters At Work doesn't really need any introduction. The NYC House Music duo comprised of "Little" Louie Vega and Kenny "Dope" Gonzalez became legendary almost instantly with their unique musical approach. The impact they made on House Music and dance music overall is undeniable and has rarely been matched. Their catalogue is rich and varied, from straight up club tracks to Latin Jazz. Constant and quality releases just kept coming from 1991 until the early 2000s.
This fifth and final showcase explores remixes and productions released between the mid and early 2000s. At that time they took their production skills to a whole other level bringing a strong musical sensibility and some absolutely different rhythm programming. At lot of these records became essential to the evolution of the House music sounds and have influenced and changed the directions of many other producers.
Listen to Part 1 / Listen to Part 2 / Listen to Part 3 / Listen to Part 4
TRACKLIST
1. Cunnie Williams – Spirit
2. Melanie B ft Missy "Misdemeanor" Elliott – I Want You Back
3. The Blackbyrds – Mysterious Vibes
4. Kenny Lattimore – If I Lose My Woman
5. Masters At Work – Nothin
6. V – In Time
7. Jamiroquai – Canned Heat
8. 4 Hero – Star Chasers
9. MAW – Clouds
10. James Ingram – Lean On Me
11. Monday Michiru – Sunshine After The Rain
12. MAW ft Patti Austin – Butterfly (You Send Me)
13. Gus Gus – Very Important People
14. Aaliyah – More Than A Woman
15. Incognito – Nights Over Egypt
16. Masters At Work ft Billie – Every Now And Then
17. BeBe – Brand New Dance
18. Eternal – What'cha Gonna Do
19. Kenlou IV – MAW War (Gotta Get That Groove Thang)
20. Nina Simone – See-Line Woman
21.B aaba Maal – Gorel
22. Carolyn Harding & Damon Horton – Sing A Song
23. Todd Terry Presents Martha Wash & Jocelyn Brown – Keep On Jumpin'
24. House Of Gypsies – Sume Sigh Say
25. George Benson – Song For My Brother
26. BeBe Winans – Thank You
27. MAW ft India – To Be In Love
28. Kenlou V – Thru The Skies
29. Roni Size Reprazent – Watching Windows
30. George Benson – The Ghetto / El Barrio
DOWNLOAD LINK
Listen & Subscribe on iTunes