Dj Bliss "The 63 Minutes Of Madness" Mixtape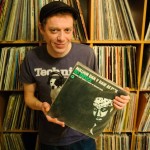 Brand new mixtape from BLISS, one of Montreal's best and one of our favorite DJ's out there. What I love from Bliss is that even though he is known for his versatility, he also has his own very distinct sound. I could probably spot one of his mixes without knowing it came from him.
The mix lands at just the right time because the homie Bliss will have the honor of opening for DJ Shadow who will be in Montreal on October 5th at SAT. I could just see both these guys going back to back!
Tracklist:
01. Why – Jerome Goldman (Slam Soundtrack)
02. Crime Scene – Dirty Fingaz
03. Brother In The Back – Ill Media
04. Contract On The World Love Jam – Public Enemy
05. Check One (Remastered Mix) – Leftfield
06. Boomin Back At Ya (Remix) – Freq Nasty
07. Virus With Shoes – Two Lone Swordsmen
08. Tommorrow Never Knows – Quasimoto
09. Lestasis (Remix) – Ennio Morricone
10. Stratus Static – Air Liquide
11. Dumbo Beat – Corruption House
12. Where's The Gold? – Depth Charge
13. Feast (Dub) – Two Lone Swordsmen
14. Hump – Plastikman
15. Uptown – Krikor
16. Groovy Distortion- LFO
17. La Solution – Les Rhythmes Digitales
18. Mother(Mr Oizo Remix) – Para One
19. Fire Up The Shoeshaw – Lionrock
20. Bruce Lee (Album Mix) – Underworld
21. Last Voice (Two Tribes Outtake) – Frankie Goes To Hollywood
22. Unknown – The Orb
23. Mo – Black Dog Productions
24. Mashallah – Stop The Earth
25. Gooo – TNGHT
26. Lost Artform – The X-Ecutioners