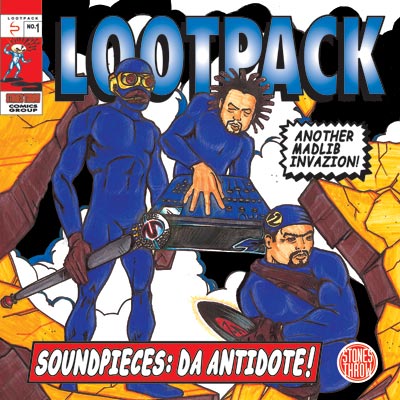 Forgotten Treasure: Lootpack "Soundpieces: Da Antidote" (1999)
via Stones Throw: Originally released in 1999, Soundpieces was the debut album production by Madlib and an introduction to a whole stable of MCs – Quasimoto, Oh No, Declaime, MED. The full 70-min 3/LP edition was only in circulation during the first 1-2 years after the album's release, but is now being brought back on March 27th, together with a Soundpieces-era track "Bone Marrow" which is included at a 7-inch single.
Lootpack's Soundpieces ushered in a string of excellent productions by Madlib, serving notice that the West Coast underground scene was becoming one of tremendous creative vitality. With this albums fantastic production, Madlib began to stake his claim as one of hip-hop's most imaginative track masters, underground or otherwise. With 24 tracks running over 70 mins, Soundpieces may appear at first to be a bit excessive, but the tracks are focused and concise, revealing new unexpected sound layered into the mix with each listen.
Reissue of the full-length wide-spine, 3/LP vinyl edition, plus the bonus "Bone Marrow" 7-inch single. Stones Throw orders also include a 4×6-inch Lootpack sticker from our archive, while supplies last.
Pre-order. Release date & expected ship date is March 27.
Stones Throw Store
---
Tracklist
"Da Antidote"
"Questions" (J. Brown/O. Jackson/R. Jimenez)

Produced by Madlib
Contains samples from:

"Long Awaited" (J. Brown/O. Jackson/R. Jimenez/M. Perretta/R. Taylor)
"B-boy Theme" (J. Brown/O. Jackson)
"Whenimondamic" (J. Brown/O. Jackson/R. Jimenez)

Produced by Madlib
Contains a sample from: "If It Don't Turn You On (You Oughta' Leave It Alone)" performed by B.T. Express
Contains a sample from: "Return of the Boom Bap" by KRS-One

"The Anthem" (J. Brown/O. Jackson/R. Jimenez)
"Level Zero" (J. Brown/O. Jackson/R. Jimenez/N. Rodriguez/M. Jackson)

Contains a sample from "Playing the Game" performed by Gentle Giant
Produced by Madlib

"Crate Diggin'" (O. Jackson/R. Jimenez)

Produced by Madlib
Contains samples from:

"Law of Physics" (J. Brown/O. Jackson/R. Jimenez)

Produced by Madlib
Contains a sample from: "What Happened To The Real Me" performed by Mavis Staples

"Frenz Vs Endz" (J. Brown/O. Jackson/R. Jimenez/K. Harper)

Featuring Kazi
Produced by Madlib
Contains a sample from: "Miles Runs the Voodoo Down" performed by Miles Davis

"Interview With Kurt"
"Speaker Smashin'" (J. Brown/O. Jackson/R. Jimenez)

Produced by Madlib
Contains a sample from: "Computer Love" performed by Zapp

"New Year's Resolution" (J. Brown/O. Jackson/R. Jimenez)

Produced by Madlib
Contains samples from:

"Answers" (J. Brown/O. Jackson/R. Jimenez/L. Quanty)

Featuring Quasimoto
Produced by Madlib
Contains a sample from "Shady Blues" performed by Lee Mason

"Likwit Fusion" (J. Brown/O. Jackson/R. Jimenez/D. Johnson Jr./R. Smith/J. Robinson)
"Hityawitdat" (O. Jackson/R. Jimenez)

Produced by Madlib
Contains a sample from "Still Shining" performed by Busta Rhymes

"Verbal Experiments" (J. Brown/O. Jackson/R. Jimenez/G. Williams)

Produced by Madlib
Contains a sample from "Method Man" performed by Wu-Tang Clan

"Stylewild" (J. Brown/O. Jackson)
"Weededed" (J. Brown/O. Jackson/R. Jimenez)

Produced by Madlib
Contains a sample from "Go Down Moses" performed by Hampton Hawes

"20 Questions" (J. Brown/O. Jackson/R. Jimenez/L. Quattle)
"Break Dat Party" (J. Brown/O. Jackson/R. Jimenez/D. Perkins)

Featuring Declaime
Produced by Madlib

"Wanna Test" (O. Jackson/R. Jimenez/N. Rodriguez)

Featuring Medaphoar
Produced by Madlib
Contains a sample from "I Wish You Were Here" performed by Al Green
Contains a sample from "Time's Up" performed by O.C. (rapper)

"Episodes"

Featuring Declaime, God's Gift, Kazi, Medaphoar, Oh No
Produced by Madlib
Contains samples from:

"The Thirteenth Floor" performed by David "Fathead" Newman
"Sounds From the Sea's Edge" performed by John Payne

"Outro"