Here is a quick list of events we recommend you checking out. We can't go out every single night but if we could this is where you would find us!
Saturday April 12th: LES BEATS w/ Lexis, Dr.Mad & Special Guest
Saturday April 12th: REAL LOVE pt.3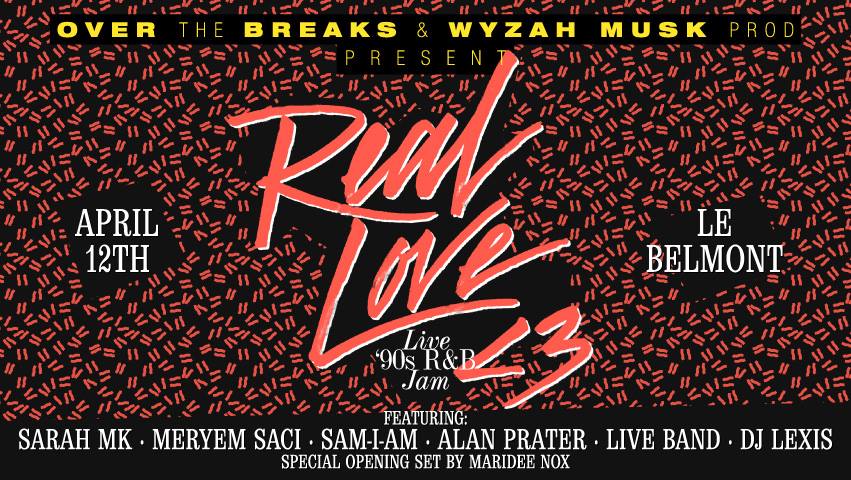 LIVEᅠ'90sᅠR&BᅠJAM
♥♥♥♥♥♥♥♥♥♥♥♥♥♥♥♥♥♥♥♥♥♥♥♥♥
REAL LOVE is BACK! Welcome to the <3rd instalment of the best '90s R&B mixtape you've ever heard, 100% live and organic. Featuring the all-star REAL LOVE band, alongside Montreal's top vocalists. Ambience will be provided by DJ Lexis on the 1s and 2s spinning 90s classics on vinyl, plus an extra-special opening act to set things off right. Come dance your heart out in the time machine… YA DIG? SHO NUFF!
FEATURING…
Sarah MK, Meryem Saci, Sam-I-Am & Alan Prater on the vocals, plus special guests and:
Chris Cargnello (guitar and the coolness), Mark Haynes (how low can you go?), Zach Frampton (keys and feelings), Anthony Pageot (the human drum machine/heartbeat)
Opening performance by Maridee Nox
PLUS DJ Lexis on the 1s and 2s to keep the heat up after the show.
/////
REAL LOVE ♥
A LIVE '90s R&B JAM
April 12th, doors @ 9pm
Le Belmont
$10 at the door
/////
OVERtheBREAKS x WYZAH MUSK PROD
Styling by BLCKMSSN
Clothes by Retro Addicts & Boutique 363
Friday April 18th: MUSIC IS MY SANCTUARY @ Bleury
Sunday April 20th: NOIRE w/ Jacques Greene, Nosaj Thing, Mr. Carmack

SJU, BACCHANALE, NEON & SAINTWOODS en collaboration avec
OFF THE HOOK présentent, une célébration de la nuit, NØIRE w/
JACQUES GREENE [LIVE] - http://bit.ly/1fSoipN
NOSAJ THING [LIVE] - http://bit.ly/1cv2Vu1
MR CARMACK - http://bit.ly/1chcayb
KAHN - http://bit.ly/PpSkq0
DJEMBA DJEMBA - http://bit.ly/1cv2ZtA
POMO - http://bit.ly/1cv2ZtA
+ MORE
▬▬▬ INFO ▬▬▬▬▬▬▬▬▬▬▬▬▬▬▬
Tickets:
Early Bird – 25$ + sv (exclusivement en ligne)
Prévente – 30$ + sv
Door – MORE
En ligne:
http://bit.ly/Nadyq2
Billets en magasins à partir du 14 Mars
En magasin exclusivement au
Off The Hook – 1021 St-Catherine W.
▬▬▬ LINE UP ▬▬▬▬▬▬▬▬▬▬▬▬▬
JACQUES GREENE [LIVE] -
http://bit.ly/1fSoipN
NOSAJ THING [LIVE] -
http://bit.ly/1cv2Vu1
MR CARMACK -
http://bit.ly/1chcayb
KAHN -
http://bit.ly/PpSkq0
DJEMBA DJEMBA -
http://bit.ly/1cv2ZtA
POMO -
http://bit.ly/1cv2ZtA
SEB DIAMOND b2b KYLE KALMA -
https://twitter.com/sebdiamond
COZY -
https://soundcloud.com/charlescozy
▬▬▬▬▬▬▬▬▬▬▬▬▬▬▬▬▬▬▬▬▬
9PM – 6AM
18 +
EASTER WEEKEND
Lundi est un jour férié
More info:
http://www.sjumtl.com/
facebook.com/labacchanale
http://iloveneon.ca/
Saturday April 25th: 24 HOURS OF VINYL #10
Saturday May 10th: MUSIC IS MY SANCTUARY @ Bleury