DJ Shadow's Endtroducing – The Sample List
It's hard to believe but November 19th, 2016 will mark the 20th anniversary for DJ Shadow's classic "Endtroducing….." released in 1996 on James Lavelle's Mo Wax.
There is no question that 20 years later it remains one of the best instrumental Hip-Hop albums to date, and perhaps the best sample-based album ever made. In honour of the 20th anniversary of this landmark we found a comprehensive list of every sample used on the infamous "Endtroducing….."
* Please note: This is not an official list from the label or the artist. There might be some missing titles.
ENDTRODUCING SAMPLES
Best Foot Forward
Stanley Clarke – "Concerto For Jazz/Rock Orchestra Part II"
"hold up, hold up, before we get started", Russel Rush & Jazzy Jay – "Cold Chillin' In The Spot"
"guess who's coming", Sparky Dee – "He's My DJ"
"it's", Jeru The Damaja – "You Can't Stop The Prophet"
"shadow", JVC Force – "?"
"back again", Kool G Rap & DJ Polo – "Poison"
"just your favorite DJ savior", Masters of Ceremony – "Dynamite"
"using and confusing beats that you never heard", Stezo – "It's My Turn"
"since… 1990", Lifer's Group – "Real Deal"
"put a smile on your face like Ultra Bright..", Divine Sounds – "Do Or Die Bed-Stuy"
"your just fessin…", Beastie Boys – "The Party's Getting Rough"
Building Steam With A Grain Of Salt
Jeremy Storch – "I Feel A New Shadow"
H.P. Riot – "I Need You"
Lexia – "I Worship You"
"from listening to records I just knew what to do.." from "Music Makers – Percussion" (a record from 1974 that was provided to schools as a public service by Chevron/Standard Oil Company of California.)
"what makes cancer tenacious..", Signs Of The Zodiac: Cancer – "Planetary Motivations"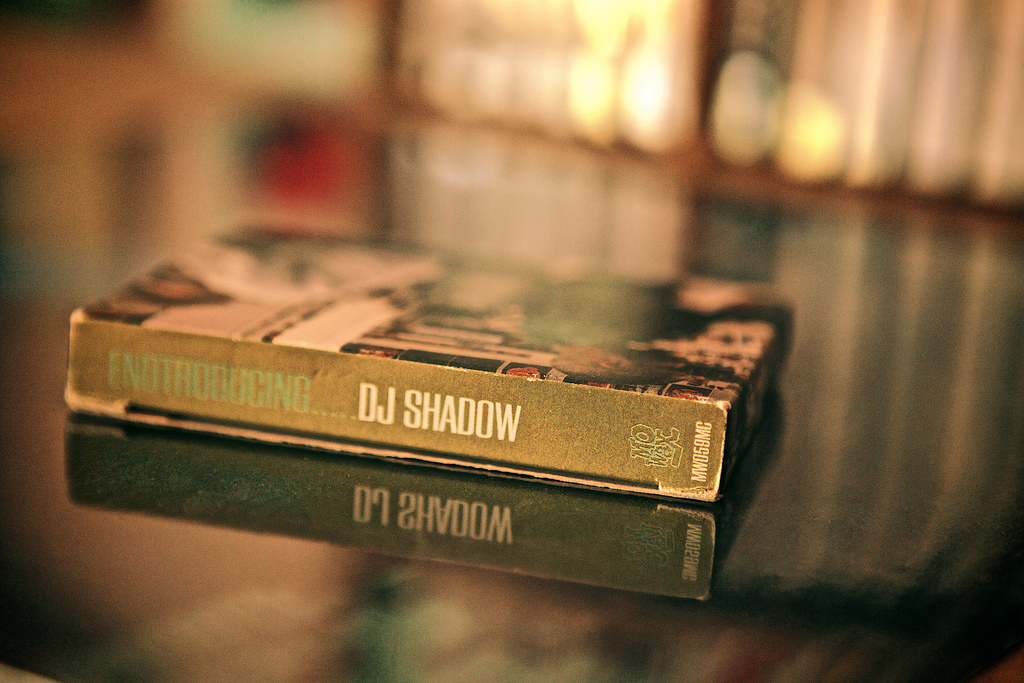 The Number Song
Metallica – "Orion"
Tony Alvon & The Belairs – "Sexy Coffee Pot"
Pearly Queen – "Quit Jivin"
Pink Floyd – "On The Run" (movie version from at Pompeii)
Jimmy Smith – "8 Counts For Rita" (drums)
New Fast Automatic Daffodils – "?"
The first "1, 2, 3, 4, 5", T La Rock – "Breakdown"
"what is this", A Tribe Called Quest – "Can I Kick It? (Spirit Mix)"
"listen to this, just..listen to this, just..listen" & "we want y'all to understand…one, two,
three, and..", Grandmaster Flash – "Flash It To The Beat"
"who got the number, guess what, I got the number", Pigmeat Markham/B.Y. and the Turnettes – "Who Got The Number"
"won't you please let me, rock your mind", Grandmaster Flash – "Freelance"
The "louder" countdown near the end, from the movie "Wild Style" – Fantastic Freaks @ The Dixie
"the party's already started…", The Troubleneck Brothers – "Back To The Hip Hop"
Changeling
Tangerine Dream – "Invisible Limits"
The Meters – "Here Comes the Metermen"
Kay Gardner – "Touching Souls"
Kay Gardner – "Inner Mood I"
Motherlode – "Hard Life"
Embryo – "Klondyke Netti" (bassline)
"he cried, he cried, and he cried … rained 40 nights … played lots of chess … made lots of friends .. and he wept every time it would rain", Loudon Wainwright III – "The Man Who Couldn't Cry"
Transmission 1
"this is not a dream…", from John Carpenter's film, "Prince of Darkness"
What Does Your Soul Look Like (Part 4)
Flying Island – "The Vision and the Voice Part 1 – The Vision"
"talk to me.. c'mon old boy.. lose that!..", from the movie "Deep Calm"
Untitled (Track 6)
Human Race – "Grey Boy"
Stem
Nirvana – "Love Suite"
"..I tell ya children I could lay right down..", The Mystic Number National Bank – "Blues So Bad"
Long Stem
Giorgio – "Tears"
Mother Mallard's Portable Masterpiece Co. – "Oleo Strut"
"Parking tickets, you're crazy.. so they take me in on a chain to long beach.. I am scared", Murray Roman – "Freedom"
Transmission 2
Pekka Pohjola – "The Madness Subsides"
David Axelrod – "The Human Abstract"
"..latitude..", from the movie "Silent Running"
"this is not a dream…", from John Carpenter's film, "Prince of Darkness"
Mutual Slump
Bjork – "Possibly Maybe"
Motherlode – "Soft Shell"
Pugh – "Love, Love, Love"
Roger Waters and Ron Geesin – "Seven Dwarves In Penis Land"
Organ Donor
"..playing a funky solo", Samson And Delilah – "There's A D.J. In Your Town"
Giorgio – "Tears"
Bill & Tim – "PM Or Later"
Midnight In A Perfect World
"insight, forsight, more sight…", Organized Konfusion – "Releasing Hypnotic Gases"
Rotary Connection – "Life Could"
Meredith Monk – "Dolmen Music"
David Axelrod – "The Human Abstract"
Pekka Pohjola – "The Madness Subsides"
Baraka – "Sower Of Seads" (bass line)
"the midnight rush", Akinyele – "Outta State"
Napalm Brain/Scatter Brain
"well hello there little buddy. come on in. what ya got there with ya? is that your dog?" from the movie "The Aurora Encounter"
Joann Garrett – "Walk On By"
Fantastic Epics – "Fun & Funk Part 2"
Charles Bernstein – "Moment of Truth"
Tyrannosaurus Rex – "Pon A Hill"
Daly-Wilson Bigband – "My Goodness" (guitar)
Billy Cobham – "Funky Kind Of Thing" (drum roll)
"testify", The Original Soul Senders – "Soul Brothers Testify"
"napalm, when the bombs activated…", BQ In Full Effect – "Let the Homicides Begin"
What Does Your Soul Look Like (Part 1 – Blue Sky Revisit)
Alan Parsons Project – "Nucleus"
Heath Bros. – "The Voice Of The Saxophone"
Shawn Philips – "All Our Love"
David Young – "Joe Spilivigates" (drums)
Transmission 3
"this is not a dream…", from John Carpenter's film, "Prince of Darkness"
"it is happening again…", episode 15 of "Twin Peaks"
Midnight In A Perfect World (Extended Version)
Meredith Monk – "Dolmen Music (Overture)"
Rotary Connection – "Life Could"
Meredith Monk – "Dolmen Music"
David Axelrod – "The Human Abstract"
Pekka Pohjola – "The Madness Subsides"
Funkadelic – "Wars of Armageddon"
Baraka – "Sower Of Seads" (bass line)
"the midnight rush", Akinyele – "Outta State"
"what happened.. what happened that night?", from the movie "Jacob's Ladder"
Buy Deluxe Edition