We are very happy to premiere the meditative sounds of "Spaceland", by pedal steel player, visual artist and composer Joe Harvey-Whyte. Forthcoming on None More Records, London.
Like everyone else anywhere that's been opening up, we on the MIMS team occasionally feel overwhelmed by the new pace of life, work, events, new releases, social engagements and more besides, so it's a real pleasure to take a step back sometimes and listen attentively to such soothing music as this.
Pre-Order
"Spaceland" is taken from a track EP, 'Flatland/Spaceland', Harvey-Whyte's debut solo release. 'Flatland/Spaceland' blurs the borderlines between ambient and neoclassical to create an engaging and meditative listening experience.
The first side of the 2 track EP, titled "Flatland" is a glacial ambient creation made using pedal steel guitar processed through multiple effects together with field recordings and occasional revelatory sounds from Himalayan singing bowls. "Spaceland", on side B, takes the composition and refracts it through an orchestral lens. A 26-piece ensemble delicately creeps into the calming world echoed by side A. As the piece develops the result is something more akin to a film soundtrack. Inspired by Edwin A. Abbott's 1884 novel Flatland, in which a two-dimensional protagonist encounters a three-dimensional world for the first time, and struggles to explain it to his fellow natives of the 2D Flatland, Joe Harvey-Whyte attempts conceptually to give depth to what that which appears flat.
On "Spaceland", Joe Harvey-Whyte worked closely with Ell Kendal, a sound artist and orchestrator from London. Kendal is known for his use of experimental scoring techniques to create notated works for classical ensemble. His influences range from avant-garde composers and performance artists, to early religious music, and ritual, and you can hear that in his interpretation of the original piece here. The process of orchestrating and recording all the instruments for "Spaceland" took around a year, with additional challenges to the process caused by working through COVID. Everything was recorded at Joe's studio in North London, with the exception of a few remote recordings.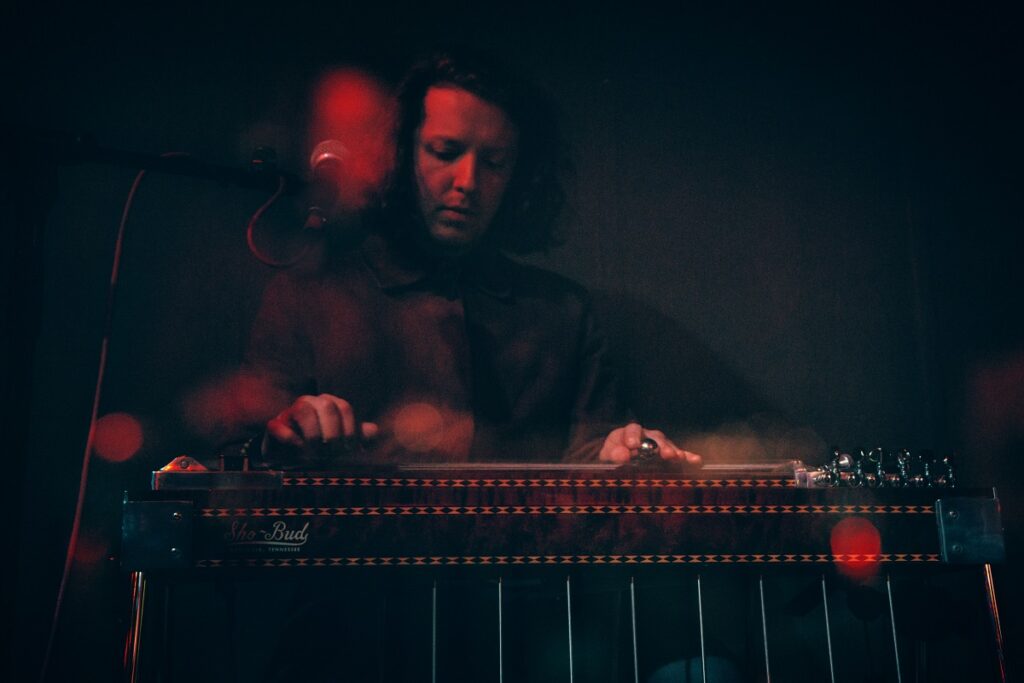 Joe says of the process of orchestrating the piece "Ell's scores are quite idiosyncratic and were more of a gentle guide than a definitive representation of the piece as it should be played. Flatland was an improv creation and I wanted this orchestral refraction to embody that level of randomness and chance. Many of the beautiful blossoming moments in Spaceland came about by 'accident'".
Joe elaborates on his process: "With my music I often like to create a sonic landscape and just sit there. Breathing slowly and contemplating. When composing, my pieces allow me to take some time out from the fast paced nature of much of life here in London. The pedal steel is manipulated through effects beyond recognition. I didn't really set out to make a "pedal steel" ambient EP. More that the pedal steel is my expressive tool and the means by which I can access a whole range of different tonalities which perhaps others might get with synths, voice or classical instruments like strings."
'Flatland/Spaceland' is due for release in full on October 15th via None More Records. A limited 300 run of 10″ vinyl with embossed sleeves are available to pre order now via bandcamp – https://joeharveywhyte.bandcamp.com/album/flatland-spaceland