B-Dub – I first came across you via Myspace about '08/09 (remember that?!) and the 1st track I heard was Muthafunkagetsbeatdown, and that one still does it for me. That's a solid Hip-Hop style banger, which is what your roots are. How'd it all start, Sard?
SARD BOOGIE – Yes I do, and you had that funky little nugget 'B-Funk' that made my day. Well, my Dad had one of those old HMV record consoles and a little boom box, so naturally I just started making pause tapes, spent many hours in front of that thing as a kid, and when PE came out with 'It Takes A Nation Of Millions To Hold Us Back' I was sold! When I got to high school I met Rema, the other half of the original Ruffnexet (my old crew). Rem, myself and a couple of other guys used to write diss battles on little notes in class then pass them around at lunch time and respond with new notes (written in class of course), a lot of fun! Rem and I where the only ones that took it seriously, hooking up after school at his Reservior house. He had a shack out the back with two turntables and a microphone, where we started to record around 1991.
B – B-Funk, cool! I've been listening to that since you put your remix up for download. That's one of my favs too, man. So now you're firmly in the production/djing seat, how do you prefer that to being part of a crew? Any chance you'll get on the mic again?
SARD BOOGIE – I always had handled the production back in the Ruffnexet days. I may have not pressed all the buttons in the studio, but I found and brought all the samples in and coordinated the tracks. After a few years I felt like I was doing it all, Hip Hop was not popular, and dudes in the scene started giving it up thinking it wasn't going anywhere. I've kept at it, just a natural progression thingy, I like both. Touring and doing shows as a crew is hella fun, but sitting in the studio I prefer the solo side of thangs. I still rhyme a bit! I busted some rhymes on Peep Show and Boogie Shakes on FWDT, the bug bits me here and there, but nothing like back in the day. I lived and breathed it 24/7. I'm not going to push it, I mainly get my kicks from producing now.
B-Dub – Ahh, wondered who was rhyming on Peep Show, after that line line about 'Hey Sard, say something political!' came in. Sounds great bro, get back on the mic! How does a Sard Boogie track kick off? I know you use a few samples, but you add a lot of played sounds too. Sample first, then add?
SARD BOOGIE – With a bang ;] Yep, when I use samples I tend to build around the samps but theres no written laws.
B – One for the gear-heads, what sorta equipment and software are you most comfortable using with productions?
SARD BOOGIE – Gear heads will probably be disappointed with me… Current set up is my trusty Yamaha RM1X, I love using this for arranging/sequencing, as I know her so well. I've had her for at least 13 years! An SP-303 for samples, an Alesis keyboard, it's midi, has velocity keys and a pitch wheel. That's all I need, sadly I sold all my rack mount effects and compressors. I plan to get them back, I miss them shits, but for now I use Reason and Audacity for those jobs. I'm a firm beliver in, it aint what you got its how you rock ;]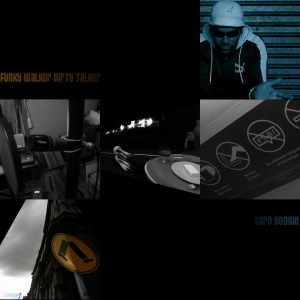 B – 'Funky Walker, Dirty Talker' has been coming for awhile. I've been waiting for it! To my ear, this one is more bloc party Funk based in general than some of your earlier grooves. Like, Tremendo had some tunes that were almost funky house style. Was that a conscious decision, or just where you ended up?
SARD BOOGIE -Yeah, tell me about it, light years! I started out with samples making straight Hip Hop, then around 2000 I got the RM1X and just wanted to make my own from scratch, just whatever, no genre in mind. Especially with "Tremendo" the only samples in there are a couple of hip hop vocals, everything else is played or constructed from scratch. Its just the sound I came up with, I love the earlier funky breaks stuff. People aren't really doing it anymore, a lot of cats are moving to the ghetto funk sound but I still can't get enough of that funky breaks B-Boy shit.
B – Is there any tune in particular on FWDT that says to you, yep, this IS the Sard Boogie sound, the one you feel identifies most what you're about? Have you started work again on new tunes?
SARD BOOGIE -I love them all, they're all my babies, but tracks like The Item and Sucker Removal Kit get me amped! I have at least 3 remixes I'm working on for other people/bands, but I'm sworn to secrecy ;]
B – Same for both tunes for me, too. Loved the Soundcloud preview, where The Item kicks in right after 'Easy To Earn'. Boom! So the album comes out 23rd May on Oz, and online. What happens next? Got some release gigs, maybe some shows interstate? I believe there may be a remix album coming out later too, yeah? Details, my man.
SARD BOOGIE -No real plans at the moment holmes, I'll just see how thang's go. Yes, a remix album later this year, featuring remixes done for me and ones I've done. So if anyone wants to have crack at any track hit me up!
B – I'll spread the word! How'd it feel to have Rusty from AGFA give you serious props for The Standard on his blog? Cool like gazpacho, am I right?
SARD BOOGIE– Dope as soap on a rope, in the big house! Im a big AGFA fan which makes it that much better, Rusty also bought all my releases in one hit, what a guy.
B – Damn, that is really cool! He def had nice stuff to say about The Standard on his blog, which was awesome. Just like me, you're feeling the good stuff from back in the day, and still exploring it. Anything new in the last coupla years or right now that you're feeling? And how do you hear new stuff, as again much like me, the radio in your joint is firmly off?
SARD BOOGIE – Yep, I love the old stuff! Hip Hop, Funk, and still after all these year I still find gems, its crazy. I do like a lot of new stuff at the same time, a lot of new stuff that I like has that old school feel about it. I find a lot on Soundcloud at the moment, awesome stuff, non label artists with 100 followers can have some of the dopest tunes I've heard. PBS 106.7FM in Melbourne is the bidness, especially most of Friday afternoon and evening there's at least 3 two hour shows that will rival anything in the world, just quality and no repetition, the way good radio should be, but yeah otherwise that joint is disconnected!
B – Yeah that's right, Ethan has his show on PBS on Fridays, streamed that a few times. He played your 'Get Down' remix too, I remember. You've got a few records laying around, no doubt. And I know there's more on the way! What's a few you'd grab in your bag if killer bees were invading your space, looking to stay? And for what reasons with each record?
SARD BOOGIE -Killer bees hey, I think I could take 'em… but if I couldn't and if I could only grab a few, for Hip Hop, 'Ultramag – The Four Horsemen'. That raw production on there, love it, and Keith's flows. For chill mode 'Donald Byrd – Places and spaces' (LP), it's a just a beautiful masterpiece. Funk mode I would grab 'Pleasure – Joyous' (LP). It's got Joyous on it! Then my backup USB back up hard drive with every thang on it, because everythangs on it ;] This list might be different if I didn't sell most of my booty back in 2002…
B – And there it is. Massive thanks to Sard for making time for the chat,out of his busy schedule, mighty kind! The LP also feature's killer cuts from DJ Welly (UK) and Melbourne's own DJ/Producer extraordinaire, DJ Agent 86. You can find out what you need to know about Sard Boogie remixes and releases, including the upcoming 'Funky Walker, Dirty Talker' on his website.
There's a link to pre-order FWDT on LTD edition Vinyl, 100 copies only, cut from the master, not pressed. Quality sound! Get in before 23rd of May, 2013. I KNOW for a fact that a lot have been sold already. Get on it. 😀
Or connect via good ol' Facebook, right here…