Vibration Black Finger: Jazz-Not-Jazz Mutations Rescued From The Vault
Lascelle Gordon aka Lascelles Lascelle, has been a mainstay in the UK music scene for a quite some time now.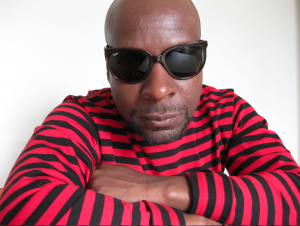 From DJing at the legendary Wag Club and playing percussion and guitar in the Brand New Heavies, to drumming for indie
rockers Campag Velocet and improvising with fellow percussionist Patrick Dawes, Lascelle has seen and done it all.
His Vibration Black Finger project, and album "Blackism", impressed us so much with its punkish take on spiritual jazz that we felt compelled to shout about it and ask him some questions.
---
Colectivo Futuro: So I wanted to start by asking how you got involved in music in the first place.
@lascellegordon: I got involved via buying records I suppose. Playing lots of records in my bedroom, playing records for other people, other people playing records for me… Eventually I got myself into a couple of little bands at the very start, bedroom bands. Then I got a DJing gig at the Wag in the early 90s, and then got introduced to a couple of guys from Ealing, in particular Jan Kincaid, the drummer in the band which became the Brand New Heavies. We were called Diana Brown and the Brothers then.
CF: And you DJ'd supporting A Certain Ratio too right?
@lascellegordon: Yeah I DJ'd at a few of their gigs, through Rene Gelston, who was the promoter of Black Market at the Wag on Friday nights. He introduced me to ACR and I ended up DJing at a few of their shows. I was really into the band so it was a double bonus seeing the band and being able to play some music before they performed.
CF: Jumping forward then, I'd like to ask you how the Vibration Black Finger project came about. From reading around it seems to have been going for some years now. So how did it start and develop from there?
@lascellegordon: I had the idea of going to the studio with about five musicians, just playing and seeing what would happen, what style of music would come out. It came out really well. After it was all recorded I came back and edited it all and I think we did some overdubs, not many, just a few here and there on particular tracks. That was in 2008. It was recorded in a really nice little studio in Walthamstow, called Bark Studios with an analog set up. We did two days of recording and I think there was another two days of editing and mixing. It was done quite quickly!
CF: So a lot of this music actually dates back to 2008 then? Wow!
@lascellegordon: Yeah it was just hanging around.
CF: Well it certainly sounds fresh! So I was going to ask you about your influences, but you mentioned the overdubs and editing and so on, was that inspired by Teo Macero for example, dub or anything else?
@lascellegordon: Yeah, I love all that stuff, especially the '70s period of Miles Davis but I've got of different influences going on.
CF: Yes, there are so many layers of sounds culminating in a strong, vibrant sound. We thought we recognized some strains of Miles Davis, Bill Laswell and Billy Cobham. In fact I was interested to hear you play some Billy Cobham on Alan Mckinnon's show the other day.
@lascellegordon: Yes, that was from the album Total Eclipse.
CF: So what would you say were some of your influences?
@lascellegordon: Certainly James Brown, Can, Headhunters, Herbie Hancock, Weather Report. All that.. Art Ensemble of Chicago… A lot of the ECM stuff I'm into. It's pretty endless I suppose.
CF: When it comes to your own music, how has your creative process changed between your previous projects and now with Vibration Black Finger?
@lascellegordon: Musically I suppose so but it depends a little bit on the project. I suppose playing percussion has changed a lot since I was doing it with the Heavies, which was more stringent or rhythmic. With this stuff it's a bit freer. There's more chance to improvise and be a bit more adventurous but yeah, it's a musical journey, wanting to open up and challenge yourself. It was great playing with the Heavies too, it taught you a lot, I learned a lot about rhythm while playing in that band.
CF: We were also quite interested in the inspirations at play – looking at titles such as Ofili and Goodbye to New York…
@lascellegordon: Yeah, well I love New York. Every time I've got to get on a plane to leave it's a bit like, "how am I going to get back?" As for Ofili, I really like the artist, Chris Ofili, and there's another track, Emin, after the artist Tracey Emin.
CF: So what are you enjoying listening to the most at the moment, new or old?
@lascellegordon: The new stuff I don't really get a chance to get in to. I like going to record shops and hearing new stuff, but for the last couple of years I haven't had a chance to do that. I heard something the other day by SW. I popped into NTS and this guy was playing a track by SW which was amazing but I didn't get the full title. As for old stuff, it's the Discogs route. What have I been listening to recently? I just get a kick out of listening back to my collection, really. I've been listening to Bennie Maupin, The Jewel In The Lotus, the ECM one. That's pretty deep.
CF: Of late there seems to be a lot of talk about an apparent revival of London grown Jazz, with the likes of Yussef Kamaal, Shabaka & Sons of Kemet, Collocutor, Ezra Collective and Moses Boyd getting some attention. It would be interesting to hear your viewpoint considering your own pioneering contributions the British Jazz and Soul movement over the years, with the Heavies and so on.
@lascellegordon: It's good that some light is being shed on the music, but it's always been there and it's always been good. There's a lot of young cats coming up now. I've never been 100% solely a Jazz musician, I like to dip into all kinds of areas. I really didn't see the Vibration stuff as jazzy when I was playing it [laughs]. It's funny that it's been picked up in that circle.
CF: So what's next in the pipeline for yourself and particularly Vibration Black Finger?
@lascellegordon: I haven't done anything for such a long time but I've just been messing about with music at home. I've got a back catalogue of stuff, another Vibration Black Finger album ready to go, plus another two EPs just sitting there. So that side of it is taken care of. Funnily enough I just messaged Tom Page from RocketNumberNine who played on the album to see if he's up for some gigs and he's on board. So yes, I've just got to try and get some sort of band together.
CF: That would be great to see.
@lascellegordon: Yeah it was going back in 2009… 2010… we did do some gigs here and there. I've also done some stuff with James Holden for his new album. He invited me down to play some percussion. Done some touring with him too. Amazing guy. Has a really good head for electronic music and the album's sounding really good. Also working on releasing a 12″ with Andy Knight, a trumpet player who plays on the album, maybe the next thing on Enid Record. It's quite minimal, out there, a Don Cherry sort of vibe. Then maybe another Vibration Black album, or EP.
CF: So tell us about Enid Record. That's your own label, isn't it?
@lascellegordon: Yeah, basically I set it up to put out the Vibration Black Finger music, and then figured I'd use it to share anything else I was associated with. Basically to save me getting bogged down looking around for a record deal.
CF: Well thanks for the chat, we're loving the new album and we will for sure be on the lookout for more from you and your various projects.
@lascellegordon: No problem, thank you as well.
---