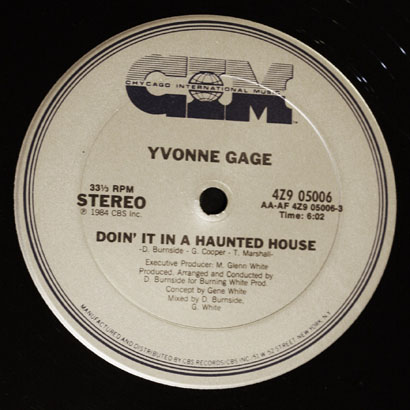 Forgotten Treasure: Yvonne Gage "Doin' It In A Haunted House" (1984)
This is a rare and humorous take on Michael Jackson's Thriller, and is a Halloween boogie gem. Yvonne Gage's Doin' It In A Haunted House was released in 1984 on CBS Records/CIM, and is the absolute definition of a disco one hit wonder that has long been forgotten.
I bought the 12" on vinyl many years ago for a dollar at Death of Vinyl store in Montreal and it was worth every penny just to watch the confusion that occurs on the dance floor when people realize it's not MJ, but a shameless knock off. I'm not going to elaborate further (this song speaks for itself) and I hope you get a laugh out of this Halloween disco boogie hit!
Yvonne Gage - Doin' It In A Haunted House
---
But while we're on the Thriller subject, you could also play this one instead!