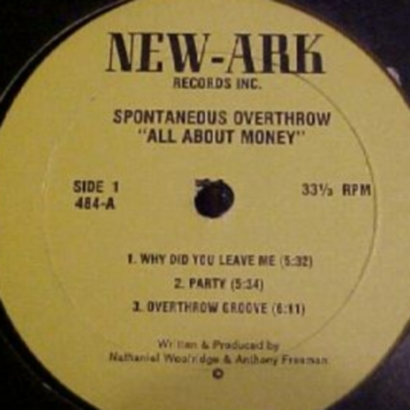 Forgotten Treasure: Spontaneous Overthrow "All About Money" (1984)
Pretty much the definition of what a forgotten treasure is right here! Very odd yet beautiful slice of synthesized experimental soul music from a group called Spontaneous Overthrow.
Nathaniel Woolridge and Anthony Freeman, two friends from Newark, New Jersey decided to press this LP on their start up label called New Ark (clever). Only a few hundred copies were pressed and given its experimental nature, it's not a surprise that it wasn't a commercial hit. After all, other singers like Shuggie Otis had done the cosmic soul thing and it was just always a bit too out there for the masses.
But we're all music lovers here so let tell you about this. If you love guys like Sa-Ra Creative Partners then you need to hear this one. Very abstract and cosmic approach to soul with great experimentation of early synths and drum machines. Honestly, don't even try to find the original LP (but hey you can still dream about it) but instead you can grab a copy of this on a recent compilation called Personal Space : Electronic Soul from 1974 to 1984