Future Classic: Gonjasufi & Blu "Eatfish"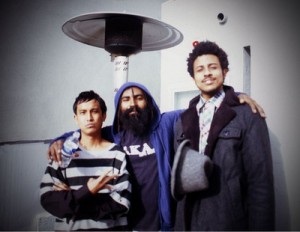 Wow, this literally made my day. Actually, I screamed out when I saw this. Gonjasufi is realesing a new EP titled The Ninth Inning on October 24th (in a few days !) and its gonna be a free EP! I have my little story with Gonjasufi: yesterday I released the teaser of my first Fashion Short Film and the soundtrack on the teaser is a track from him. And I really enjoyed his last album "A Sufi and a Killer" which is kinda weird on that a mystic vibe. I love it!
The first track of the EP was produced by Johnson&Jonson, a duo made up of Blu and Mainframe. Blu also raps on the track and he kept the same weirdo, intriguing vibe that Gonjasufi does so well.
GONJASUFI – "EATFISH" w: BLU (Produced by Johnson&Johnson) [MP3] by Hydroshare.tv