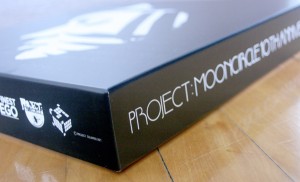 As soon as I heard about this Project: Mooncircle's 10 years anniversary collection, I couldn't wait to hear it. For me, I mostly associated the label as the home for Robot Koch and the all records they put out were generally instrumental hiphop and a bit electronic in nature which I like pretty much (maybe confusing the label with their sublabel Finest Ego in the process). All the artists on the compilation were chosen because they already worked with the label but the artists seem to be hand picked to fit my liking. Even the Jehst (a british rapper) or CYNE (a rap group from Florida) are here with a song on the German label's anniverary!
Lists are always a bit boring but there is music by Mike Slott x Diane Badié, CYNE, Sweatson Klank aka Take, Jahbitat, Robot Koch, fLako, Jehst, Beat Butcha, Long Arm, Kelpe, Pavel Dovgal, Blossom, Daisuke Tanabe, Dday One, Inner Science, Substantial, Arts The Beatdoctor, Rain Dog, Kidkanevil + Microkorg by Dorian Concept, John Robinson, Sorrow, Rumpistol, The Red Baron, Christoph El' Truento, 40 Winks, Sina., 1000Names, DZA, Ichiro_, EAN, Tom Dicicco, Headshotboyz, Graciela Maria, Gards From KC, Sekuoia of Kilimanjaro, Sense of The Q4, Sneaky, I.V.A., Empt, John LaMonica, Mike Gao, Bambooman, Manuvers, Krts, Kwala, Soosh, Memotone, Sun Glitters, Called Understandable Souls & Szenario in the boxset. Most of which I didn't even know worked with the German label, so I was even more eager to listen to the boxset.

I can't say it's the best work by each artists but that's not really the point of a compilation like this. The collection works well and avoids the pitfalls of so many compilations by not trying to be too eclectic. It stays focussed from the beginning to the end on the sound the label is known for which makes for a nice testament on the necessity of this label for it's 10th year.