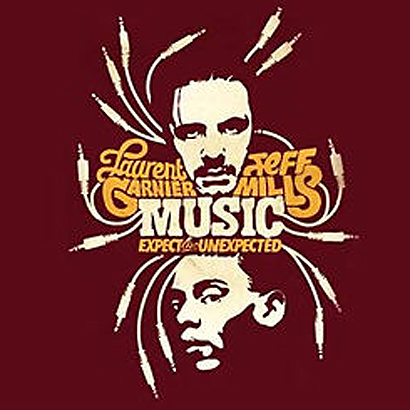 Classic Mixes: Garnier vs Mills "Expect the Unexpected"
Someone gave me this mix 3 years ago and I found it in my stuff last week so before I lost it for another couple years I thought I'd share it with you guys.
This is 80 minutes of pure bliss from two Techno Pioneers: ze frenchman Laurent Garnier and Detroit's Jeff Mills. There are lots of gems in here; funk, disco, hiphop. Hell, it almost sounds like one of my pods. Peep the crazy Portishead cover, second track of the mix…
---
Tracklist
Morton Stevens – The Long Wait
John Martyn – Glory Box
Ike & Tina Turner – I Smell Trouble
Screamin' Jay Hawkins – Well I Tried
?
Butch Cassidy Sound System – Cissy Strut
Lee Perry – Bathroom Skank
Charles Wright And The Watts 103rd Street Band – Express Yourself II
?
The Jones Girls – Nights Over Egypt
Odyssey – Inside Out
Denroy Morgan – I'll Do Anything For You
Unlimited Touch – I Hear Music In The Streets
Candido – Thousand Finger Man
Cleptomaniacs – All I Do (JJK Orchid Club Mix)
Charvoni – Always There
Renovation Unlimited & Roy Ayers – Antonata (Atjazz Remix)
Xaver Fischer Trio – I Sing This Song Just For You (Nicola Conte Latin Contrasts Version)
The Young Holt Trio – Wack Wack
Marcelo D2 – A Procura Da Batida Perfeita
Coldcut – The Music Maker
Wu-Tang Clan – Uzi (Pinky Ring) [Loud]
Young Disciples – Apparently Nothing
The Normal – Warm Leatherette
Jimi Hendrix – Hey Joe
War – Galaxy
M.F.S.B. – K-Jee
Karen Young – Hot Shot
Teddy Pendergrass – The More I Get The More I Want
James Brown – Superbad
Heatwave – The Groove Line
Montana – Esto Parese Amor (Club Mix)
Louie Vega – Mozalounge (Jazz N Groove Dub)
Mark De Clive-Lowe – State Of The Mental
The O'Jays – I Love Music
Jomanda – Make My Body Rock
?
Laurent Garnier – Acid Eiffel (Live)
Ché – The Incident
Frankie Knuckles – Baby Wants To Ride
Change – The End
Radiohead – Idioteque
Laurent Garnier – Waiting For My Plane
Yello – Bostich
New Order – Blue Monday
Front 242 – Take One
Laurent Garnier – First Reaction (V2)
?
?