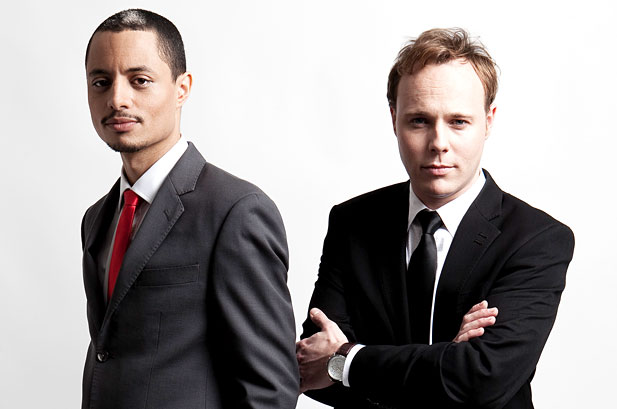 The Montreal audience got their first taste of the much hyped Jose James. He was in town to tour his current project and first release on a US label (on Impulse! no less) along with a really exciting young talent, Jef Neve, a pianist from Belgium.
Jose James - Interview for MusicIsMySanctuary.com
US born and London based Jose James is already the rising star of vocal jazz in the UK, Europe and Japan. He now has two solo records ("The Dreamer" and "Blackmagic") on Brownswood Records, Gilles Peterson's label by whom he was given his first big break.
The show was probably in one of the most intimate settings i've seen. About 150 capacity in a mini-bar called Savoy, adjacent to the Metropolis venue. It was so quiet people even felt bad to cough or order a drink at the bar. The booking did however fit with the very straightforward concept of the show : Piano player and vocalist singing timeless classics from George Gershwin, Duke Ellington and others.
Being someone that's been following Jose James for a couple years (I bought a copy of his outstanding Equinox demo 10′ in London in 2006) I was left wanting a little more. By no means does this mean that the show was a disappointment. I'm just saying that I would have liked the Jazz Fest to have booked him for his two previous tours when he was touring his solo records… To the people that don't know Jose James yet, this is a solid introduction that will give you about 1/4th of what the guy can actually do. Think Lou Rawls meets Gil Scott-Heron meets Bobby McFerrin meets Digable Planets!
His collaboration with Jef Neve is a really interesting project, but I can't wait to see him do what he does best live: modern jazz meets contemporary rhythms.
José James et Jef Neve in concert at Savoy of Métropolis 2010 from Francis Ranger on Vimeo.